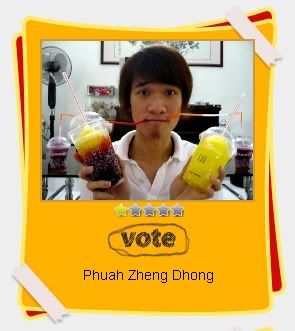 See that big 'VOTE' word? Yes, you've guessed it! It's another 'who get's the highest votes win contest'. So, if you're ever so kind enough, do
vote for me at this link
. You can vote for a maximum of 5 times per day and you will need to verify your vote by clicking the link sent to your email. Do remember to verify after voting or else your vote does not count. Happy voting and may the most popular person win! Well, it is a voting contest after all.
For more info on the contest details, please click here:
Nuffnang: Slurpeelicious
.
Other bloggers who took part in this contest is listed below. Want me to link you up? Drop me a comment and I'll link you. Hehe. I'm doing a good deed over here.

But before that, remember to vote for me first.

Here are the other bloggers who took park.