The Mission:

24 HOURS, 4 BLOGGERS, 1 WINNER.

Intel, Lenovo and TANGS Pavilion Kuala Lumpur are proud to present 4 very brave bloggers who will take up the challenge of blogging for 24 hours over 2 days!

The bloggers will be on a mission to blog and tweet to win YOUR votes to make them your favourite blogathon blogger.

Will they survive? Will they make the cut?

-taken from the Live Mannequin Blogathon Facebook Page


It is all happening right now at TANGS, Pavillion KL! It's not too late to vote for your favourite blogger! Head on there right now and cast your vote as you can walk away with a brand new Lenovo notebook too!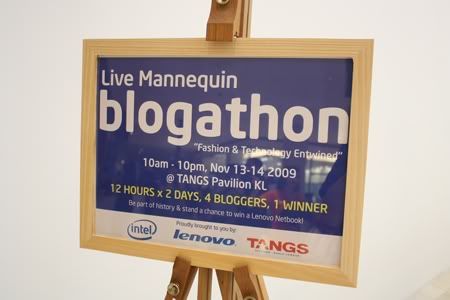 I just came back from Pavillion a few hours ago. I was there around 12 something in the afternoon and not many people was around yet. I guess they were all still sleeping eh? So anyways here are some picture which I took.

KY and Cheesie

Wern Shen and Sixthseal

The 'Aquarium'

Here are some close-ups.
Smile!

Both of them look busy.
Oh, and I voted for sixthseal.com
Minutes later it was time for toilet break and look what have I spotted on Cheesie's side of the table.

.

.

.

.

.

Girls can never go anywhere without a mirror and a hair brush eh?