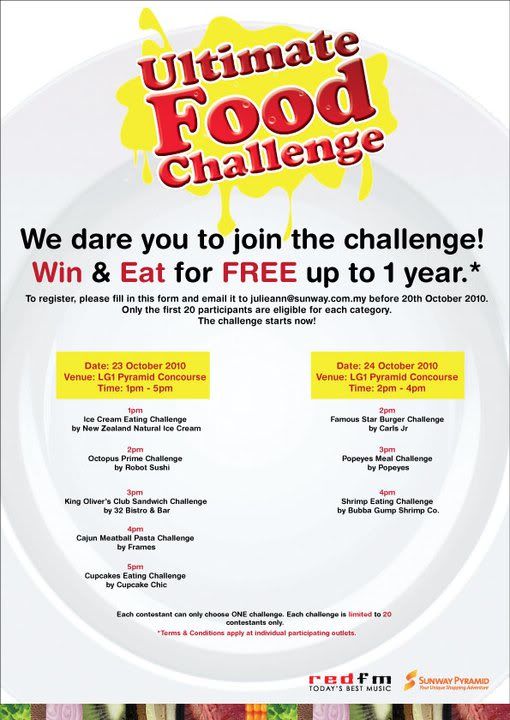 The coming
23rd & 24th of October
,
Sunway Pyramid
will be organizing the
ULTIMATE FOOD CHALLENGE
! Take up the challenge and win to
enjoy FREE MEALS for 1 WHOLE YEAR!
Several challenges are held each day and they are as follows:
23rd October 2010
Ice Cream Eating Challenge by New Zealand Natural Ice Cream -1pm
Octopus Prime Challenge by Robot Sushi - 2pm
King Oliver's Club Sandwich Challenge by 32 Bistro and Bar - 3pm
Cajun Meatball Pasta Challenge by Frames - 4pm
Cupcake Eating Challenge by Cupcake Chic - 5pm
24th October 2010
Famous Star Burger Challenge by Carls Jr - 2pm
Popeyes Meal Challenge by Popeyes - 3pm
Shrimp Eating Challenge by Bubba Gump Shrimp Co. - 4pm
Each challenge
is only
limited to 20 contestants
and each contestants can only join one challenge.
If you are interested to join, fill up the form above and send it to,
julieann@sunway.com.my
before
20th October 2010
.
The problem is, how do you fill up a form if it is in JPEG format? I guess you;ll just have to write in to them.
Check out
Sunway Pyramid's Facebook Page
for more info.
~~
I've always wanted to join a food eating competition which is why I'm planning of joining this challenge. It's either the King Oliver's Club Sandwich Challenge, Famous Star Burger Challenge or the Popeyes Meal Challenge. I have not really tried any of the meals above but large amounts of sandwiches and burgers won't stop me.
Will you come support me if I joined? I have to decide soon. The closing date for registration is near.
Remember to subscribe to
The Orange Banana
and also follow me on Twitter
@dylan3008
.
Also remember to vote for
My Selangor Story Blog posts
.