Did you know what I did during
Day 1
of the MSS Bloggers Tour 2010?
Read here
to find out first.
I was lucky to have him as my roommate. Now I have a friend from Indonesia, a blogger friend. Now that's something special. =D
This picture was taken on the second day after we've bath and gotten ready for the following adventures to come.
Seems like the Pentax camera is very good for camwhoring sessions too!
Oh, and I like his jacket very much!
So it was around 7 something in the morning, when we packed our bags to be brought down to the lobby together with us as we were leaving for another destination and also we would be staying at a different hotel that night.
Breakfast was actually served quite late. I was waiting in the room for someone to tweet that breakfast is served but no one really did (or did I missed reading the tweet). I was already hungry and couldn't wait any longer, so me and Citra carried our bags over our shoulder, headed out of the hotel room, towards the lift and went down to the lobby area.
I quickly grabbed a seat, settled down for awhile, then I started to make a beeline towards the food! The food was not really up to my expectation but I can down anything as long as it is edible. However, I do really hope that the hotel's buffet will be more presentable and also food must be served on time!
The Royal Selangor Visitor Centre is located in Setapak Jaya, which is just a 20minutes drive from Kuala Lumpur city centre. It is also accessible through Light Rail Transit where you alight at Wangsa Maju Station (Kelana Jaya Line) and get a taxi there which will cost you about RM3-4.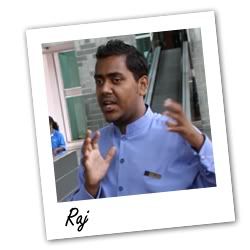 Upon arrival at the center, we were greeted by the Royal Selangor staff. We were about to be taken for a tour around the building of Pewter.
Firstly, the HUGE group of MSS bloggers had to be separated into two groups because there was just too many of us! My group of awesome bloggers was assigned to Raj. He will be the one explaining everything there is to know about the history of Royal Selangor and the Pewter works.
These are just some of the pewter items on display. They have a lot on showcase in the Pewter Museum. They even have a huge alligator on display!
And the picture below should be a replica of a mining machine. Any ideas what this is? When I saw this model, the first thing that came into my mind was Macro Shots! Too bad we did not stay in that area long enough for me to get a good angle at it. Maybe next time. =)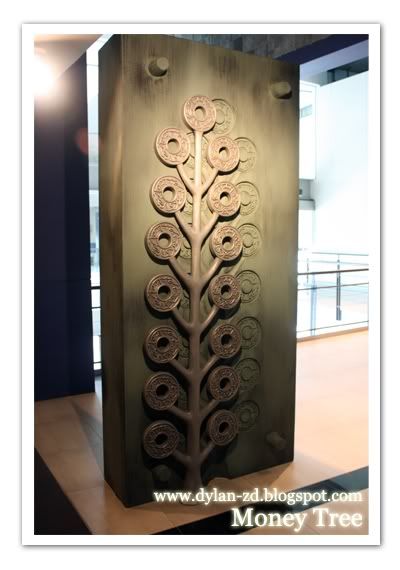 This was what they used as money back in 'ancient' times.
It is the round coins which a person will pull off the 'stem' to pay someone else. The actual size of this money tree will be something like the one you can see in the above picture. The one in the Pewter Museum. Once all the coins are used up the stem will be melted and then poured into a mold to be reused again.
Pewter has a low melting point of about 225-240 degree Celsius.
I've also heard that by touching this 'money tree', you will be blessed with good luck. So did you manage to touch it?
We had now come to the factory part of the tour but first let us quench our thirst with 100 PLUS served in a pewter cup. The aunty's expression looked so happy and real. It's one of those moments worth capturing on camera.
Take a look below at the huge factory area. Everyone working at their own stations with pewter everywhere. I wonder if the workers would prefer having an air-conditioned factory instead? Not like it is hot or anything, they do have ceiling fans. I'm just wondering.
Then there were these four work stations, with each station showcasing a part of a skill needed when making pewter products.
Below you will see hot molten pewter being poured into a mold or cast. After a few seconds, the molten pewter hardens and becomes a mug handle! She's working very fast too!
Next would be the polishing station, where 'money trees' get polished and so does engraved pewter cups. This is done to make sure that the design stands out and looks more attractive. The 'money tree' polishing is done with a 'sanding chisel'? What's that called in malay?
It's a simple tool I learned in Kemahiran Hidup, now I've forgotten the name. *fail*
I don't really know what to call this station, so I'll just call it the 'thinning the cup station'. It's the part where a molded pewter cup is spun round with this machine to make it the correct size (thickness).
Then the picture below shows the hammering process where patterns are made onto a pewter cup using a small hammer. Hammering needs precise accuracy and full concentration. A single mistake then you will have to do everything all over again. Talk about having awesome skills here!
We were given the chance to try out this experience too. A few of us tried it out and well, practice makes perfect.
This is where we get to enrol into one class of learning how to become a Pewtersmith. Also known as The School of Anger Management. If you guys are having some anger problems, don't waste your money on some expensive anger management therapy, come to The School of Hard Knocks! I'm sure it'll solve your problem just fine. =)
The School of Hard Knocks actually allows us to make our very own pewter souvenir which we can take it back at the end of the class. Using only basic tools, like how it would have been made in the late 19th century, we were supposed to hammer our initials or words into a pewter plate.
Then using the mallet, we knocked that piece of pewter into a specialized mold, if done correctly, it will eventually turn into a pewter bowl.
Look at all the future Pewtersmiths hard at work. And the sound which came out from all the knocking was music to my ears. Haha! Just imagine how it would sound like with almost 30 people hammering one piece of pewter plate onto a hard piece of wooden mold.
MY GENUINE PEWTER BOWL
After minutes of hard knocking, this was how my bowl looked like in the end.
Perfect isn't it?
I wonder if Royal Selangor will hire me as their Pewtersmith? *Laughs out loud*
We were then greeted by Datin Paduka Chen Mun Kuen who was the director of Royal Selangor. She was also the granddaughter of Royal Selangor's founder as well!
She told us a story about this 'lucky' melon pot which found its way back to the family.
Did you know that this 'lucky' melon pot actually saved someones life before?! Read all about it
here
.
You can se me receiving a certificate from Datin herself, signifying me completing my masterpiece at The School of Hard Knocks.
Thank you Datin! And thank you Royal Selangor for welcoming us and having us at the Royal Selangor Visitor Center. I've gained experience at pewtersmithing that day!
*The wheels on the bus go round and round, round and round, round and round* Our next stop would be Genting Highlands, City of Entertainment! Many of you might be thinking, why are we going up to Genting Highlands when it is in the state of Pahang?
I'm sure what you do not know is, a part of Genting Highlands is also situated in the state of Selangor and that would be the Highlands Hotel. So technically speaking we are still having our adventures in Selangor! =D
You really can't miss it when Tabby the tiger and Allie the elephant come out to greet you. They look so cute! The last time I've seen these mascots in Genting Highlands was when I was still young. So this time, I just had to take a photo with these two.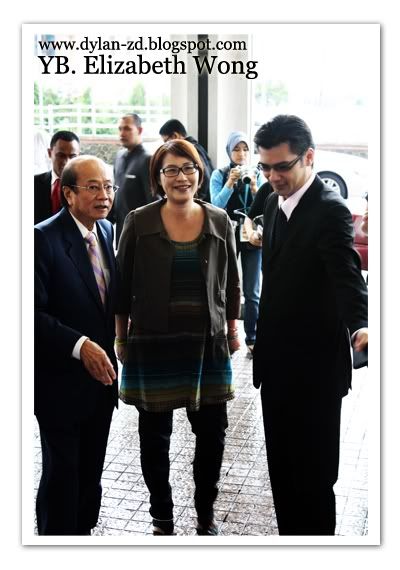 We really appreciate YB Elizabeth Wong for coming out to have lunch with us despite of her busy schedule.
Without further ado, we had a huge group photograph taken together with YB Elizabeth Wong.
We were then on our way to Coffee Terrace, as our lunch was already waiting for us.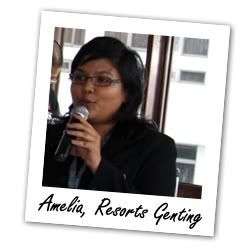 SUPERB LUNCH AT COFFEE TERRACE
Welcomed by the emcee, Amelia, we then took our seats. Fresh and cooling air was already seeping in through the windows. Genting Highlands is just the place you want to be if you want cool and refreshing air.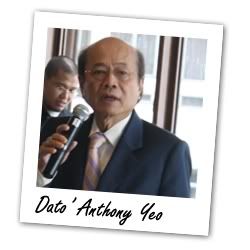 Dato' Anthony Yeo gave us a short welcome speech and also told us more about Genting Highlands. After that we were also addresed by YB Elizabeth Yeo.
Enjoy the pictures I've taken below with the Pentax P80 camera. Pictures speaks a thousand words.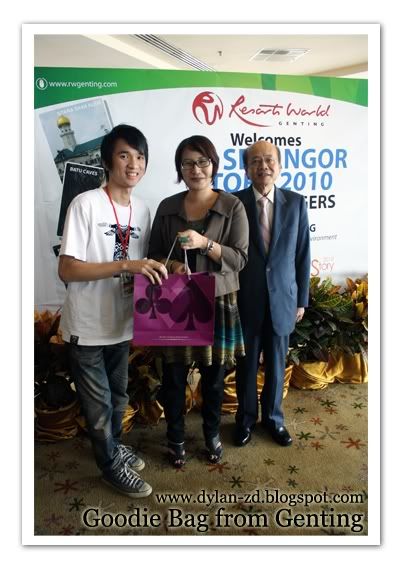 At the end of the luncheon we were each presented with a goodie bag from Resorts World Genting.
Do you want to know what we were given?
We were each given a Holiday Card with RM100 cash credit for us to spend in Genting.
10,000 World Card Points!
ALL PARK TICKETS!
and one of the BEST PRESENTS I must say would be having a room all to myself!
The Superior Deluxe Room!
Something seemed different when I stepped into the room. I didn't get what was different at first until a few seconds later...
It was BIGGER!
After lunch, we were invited into The Visitor's Galleria by My, Philip for a short talk about how Genting Highlands came about.
The time we've all been waiting for, getting our blood pumping at the theme park rides!
Just as we reached an area without a roof on top of our heads, we saw rain! Oh no~
To wait for the rain to stop, we headed over to the Patio for our welcome drinks.
We started of with the Euro Express in the Indoor Theme Park and when the rain stopped, we headed out to the Outdoor Theme Park for more challenging rides.
Besides the other goodies Resorts World Genting gave us, they also gave us FREE ENTRANCE to one of these shows in The Pavilion! We were to watch DAZZLE that night and had a DAZZLING experience! We were not only given free entrance but we were also given VVIP seating! Right at the front of the stage! Is that awesome or what?!
And that's not all, as you know, in shows like this, the audience were not allowed to take photographs or videos in any format. However, we the bloggers was given SPECIAL PRIVILEGES to do so!
Now tell me, is Resort World Genting great or what?! They are AWESOME!
Picture credits to Resorts World Genting.
Ernesto Planas – Magician (from Cuba)
Who did great umbrella magic tricks! He made umbrellas pop out of thin air! Also not forgetting a wonderful performance he put on when he pulled
Spectre
up on stage to 'teach' him how to make a tissue disappear! That really gave me a good laugh!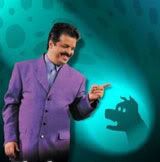 Sonny Fontana – Hand Shadow (from Venezuela)
Entertaining us with cool hand shadows. I truly enjoyed it when he did hand shadows of famous people and celebrities.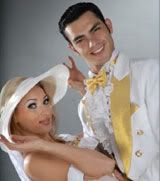 Duo Presto – Quick Change Act (from Brazil and Ukraine)
This is just one of the tricks which I will never know how they do it. They will amaze you by changing clothes in a split second! It simply defies all laws of science if you manage to watch their act. If only girls can change this fast eh?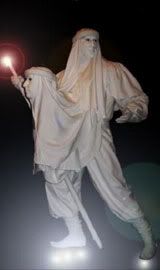 Statue of Jerome Murat (from France)
Be mesmerize by the wonderful performance of the Statue of Jerome Murat. A show which you simply much watch to appreciate it.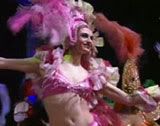 14 Dancers (from Ukraine & Belarus)
Last but not least we have the 14 dancers from Ukraine and Belarus dancing with their colourful costumes to the music. A very spectacular show indeed!
You certainly must at least watch one show at The Pavilion some time in your life. It will be worth it. I'm sure because I've got the chance to watch the show courtesy of Resorts World Genting! Thank you!
I truly enjoyed myself today. One of the best yet! I managed to improve my skill in pewtersmithing and had a VERY ENJOYABLE time at Genting Highlands! Thank you for the VVIP treatment!
Do follow my blog as Day 3 will be as exciting as well!
Congratulations as you've made it to the very end of my very long blog post but there's one thing which I need you help in doing. Is to help vote for me at the link provided below.
If you have any questions or comments, do write to me at the comment section.
Remember to subscribe to
The Orange Banana
and also follow me on Twitter
@dylan3008
.
~~
Check out what the other bloggers have to say:
Day 2 Tour for MSS