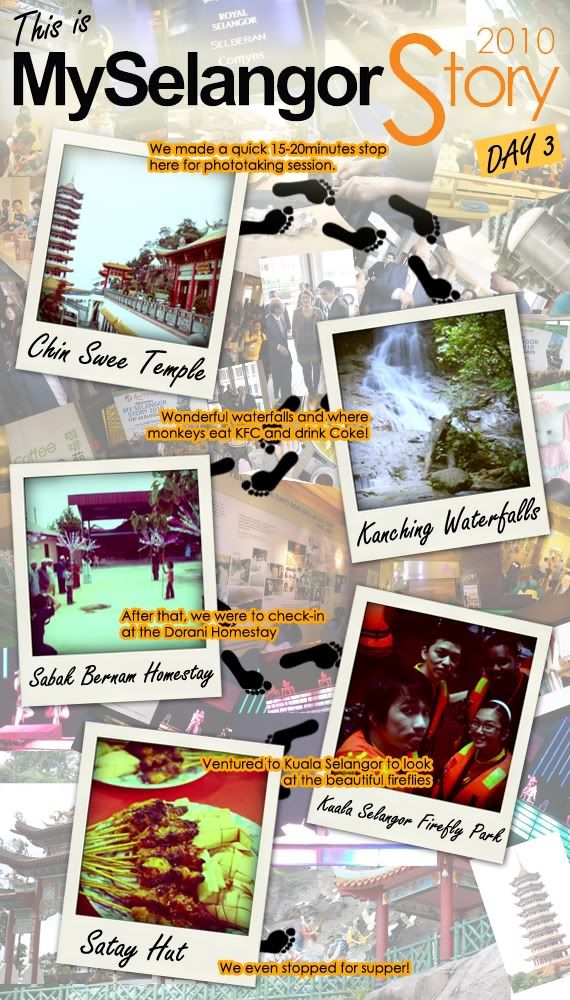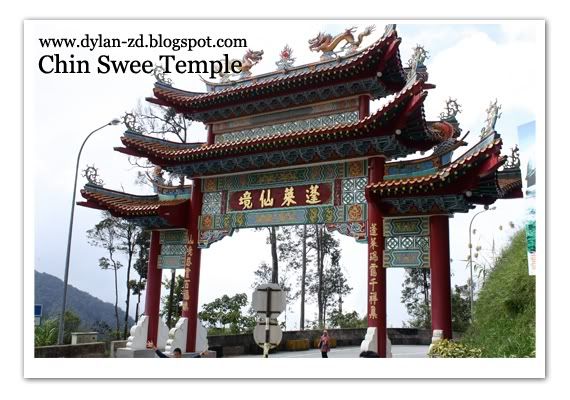 CHIN SWEE CAVES TEMPLE
Located in the most scenic site of Genting Highlands, we made a quick stop here after checking out of First World Hotel.
Before the huge project of what Genting Highlands is of today, the late Tan Sri Lim Goh Tong had a dream where by a deity came to tell him that he should continue and go on with the Genting Higlands project. Thus, the late Tan Sri Lim promised to build a temple for the deity when the Genting Highlands project is successful. Thus, this was how the Chin Swee Temple came about.
The Chin Swee Temple was actually built on a very dangerous steep and rocky terrain. Thus, it was impossible to use any modern machinery for the construction of this temple. Which is why it took 18 years to complete the construction of this temple.
The Chin Swee Temple is only a 5 to 10 minutes drive away from the peak of the mountain. Do stop by if you have the time and bring along your camera too.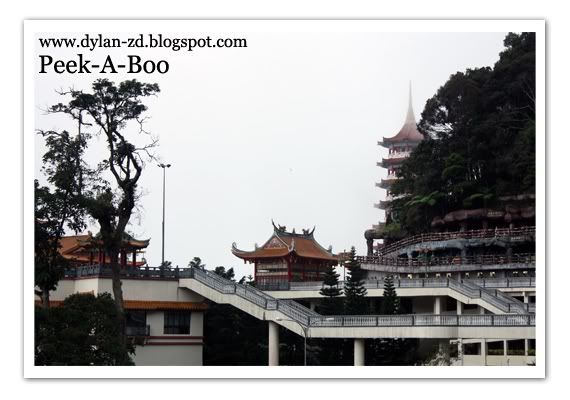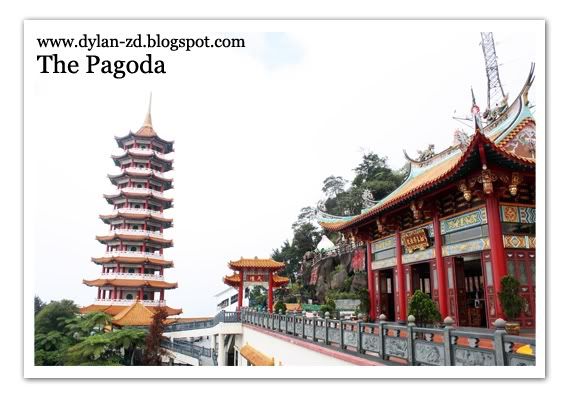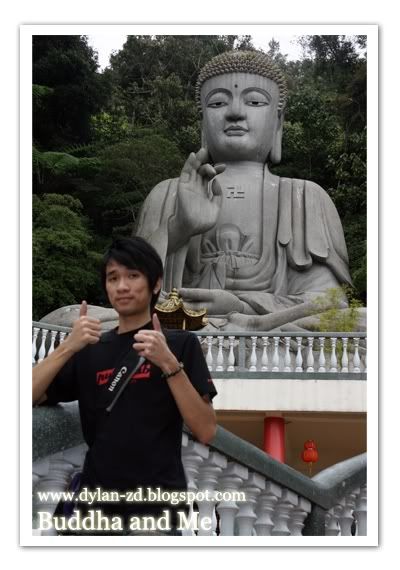 A picture with Buddha. Haha! How awesome is that?
The Chin Swee Temple is certainly one place you must stop by whenever you are in Genting Highlands.
They even have room packages if you plan to stay the night there.
KANCHING WATERFALLS
After many photo snapshots at the Chin Swee Temple, we then made our way to the
Kanching Waterfalls
. It is located in Kanching Recreational Forest which is somewhere between Selayang and Rawang. Find out its location on
Google Map
.
There are altogether 7 levels to climb and at each level there will be a waterfall. We were told that we would be going till level 3 but if my memory serves me correctly we only reached level 2 because of time constraint.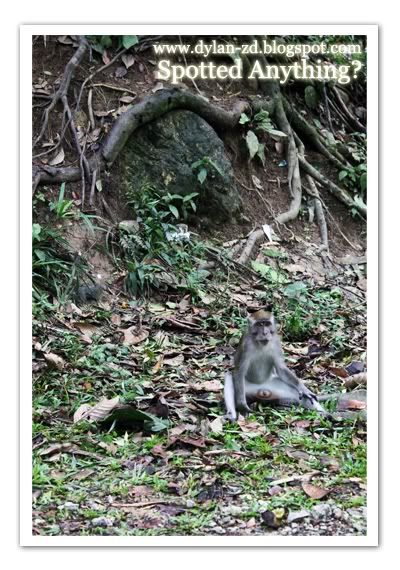 So the Kanching Waterfalls is famous for its waterfalls (obviously) and also for the mischievous monkeys.
You might want to be wary of your belongings when you make your visit here. You'll never know when a monkey will snatch you things away from you. Especially food.
If you're planning for a picnic, just keep your food out of sight from the monkeys when you climb up to the falls.
Look at that naughty monkey over there.
Enough of monkey business, let's make our way to the first waterfall.
This would be the first waterfall at Level 1 which is called Lata Bemban. To get to the small leveled area there, you will need to carefully step down a steep slope. One you're down there, you can be that much closer to the waterfall.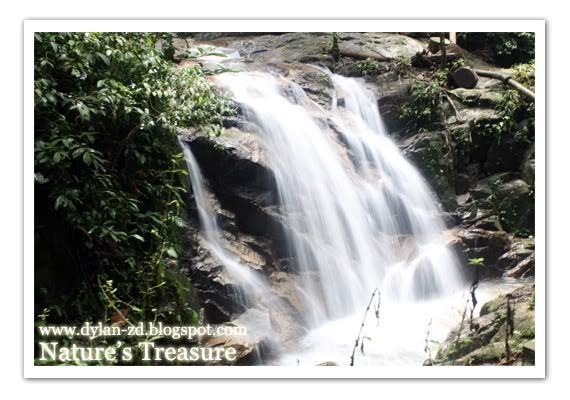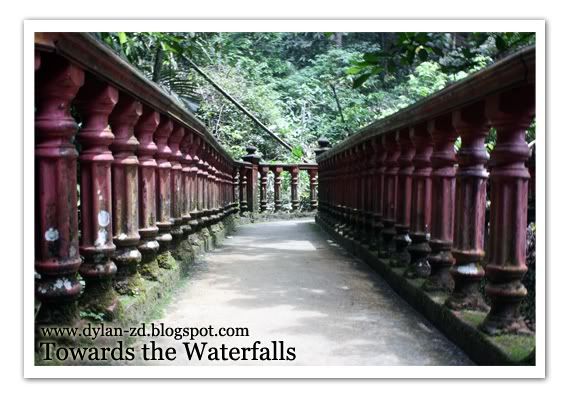 We then made our way back up to get to the second level.
City people need to get some fresh air once in awhile. People tend to forget how beautiful nature really is. Take a day off from your busy schedule, look up on directions to this place and head on here to relax. You'll feel much better.
Besides getting to dip your feet into the cooling water, waterfalls are also a great spot for photography. Look at
TianChad
and
Feeq
busy snapping away and me busy snapping them.
The photo below would be Lata Terentang, the waterfall on the second level. People usually will be resting here rather than choosing to continue all the way up, as this is the best resting spot as it has changing room facilities here.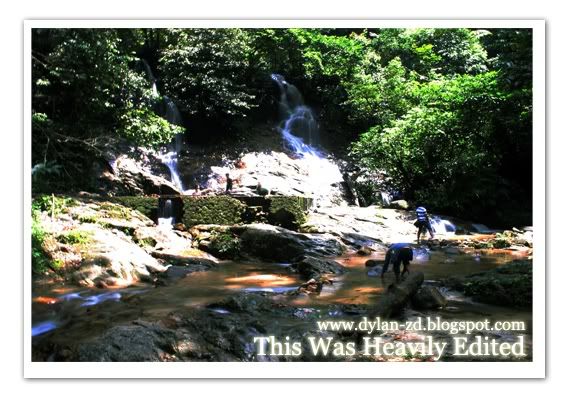 I went and google some information about the Kanching Waterfalls and found out that the higher the level the more interesting it gets and have better spots for photoshooting. Though trying to get to the higher levels might be challenging for some.
HAVING LUNCH WITH THE MONKEYS
The time was around noon and the Sun was above our head, so photoshooting will be a little bit tricky. Thus, we went back down to ground level for our lunch.
We were packed back a set of KFC each together with a can of Coke. Before you know it, the monkeys already sensed there was food around and started coming down from the trees. Without some of us knowing, the monkeys snatched our coleslaw, chicken and Coke!
The funny thing is, monkeys do not know how to hold a can of Coke. They grabbed it several times with the can being upside down. So while they were running away, the drink kept on pouring out from the can which in the end none was left for the monkey. Haha! #fail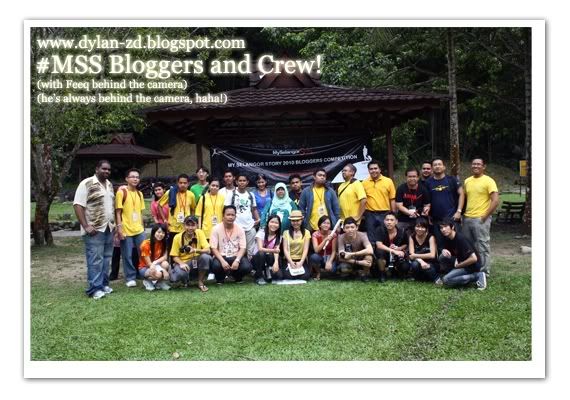 After finishing our lunch and disposing the rubbish in the bin (do not litter at recreational parks, in fact, do not litter anywhere), it was time for another group photo and then we would be heading off to our next destination.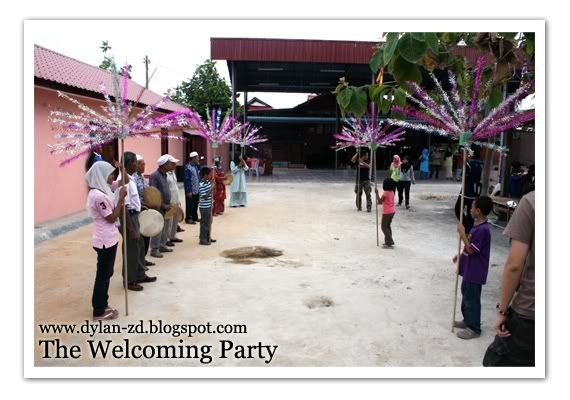 SABAK BERNAM HOMESTAY
After driving for some kilometers, we arrived at Sabak Bernam which is at the northen part of Selangor and it is bordered by the state of Perak.
At Sabak Bernam, we made our way to Dorani Homestay. For those of you who do not know what Homestay is, it is actually the experience of staying at a traditional village together with the traditional communities. In other words, experiencing kampung life.
Truly a fact, this would be very different from the life we are living in currently. At a homestay program, you will get to experience what traditional communities go through everyday. Best of all, you get to eat kampung food!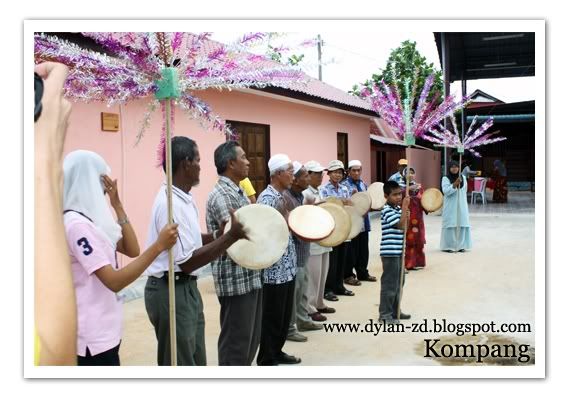 THE WELCOMING CEREMONY
Upon reaching
Dorani Homestay
, we saw that there was a welcoming reception already waiting for us. Some were holding
bunga manggar
and the older generation welcomed us by playing music with the
kompang
.
This was my first time experiencing a homestay program and I really did not know what to expect. All I know is, we will be put into care of our 'foster parents'. Will I survive kampung life?
Traditional kuih-muih and chilled water was served as refreshments. Then we were seated for yet another welcoming performance.
First of, we were entertained with a kuda kepang dance. The kuda kepang dance is a traditional Malay dance which has some Javanese culture in it. The bloggers was also given a chance to try to the dance. It was the girls' turn at first which then followed with the guys.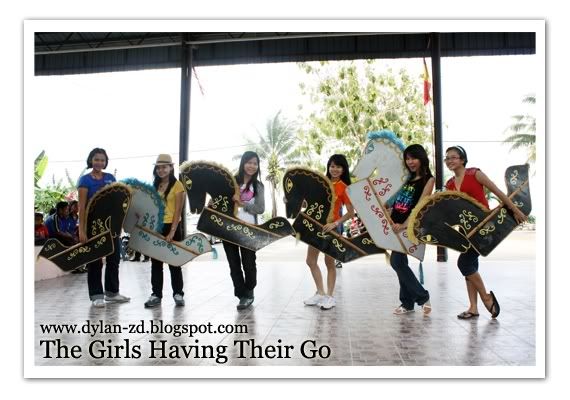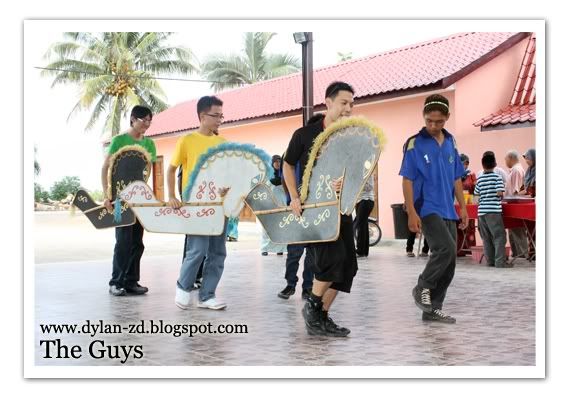 It was then followed by a Barongan dance. Not many of you might know this traditional dance and it has a story behind it. Try to look it up, it's interesting.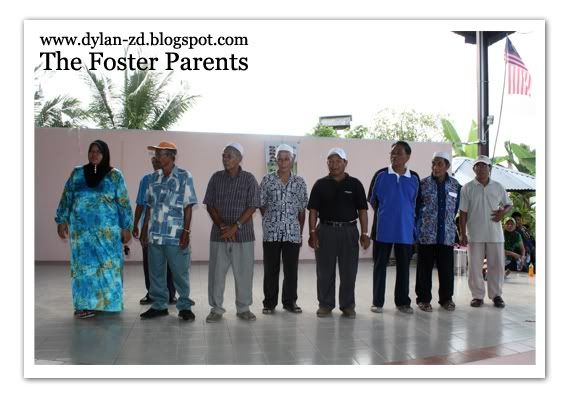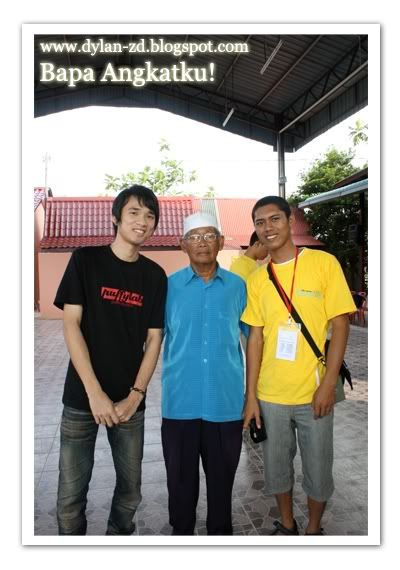 MY BAPA ANGKAT DURING HOMESTAY
Bloggers were divided to follow their respective bapa and emak angkat back home.
Citra and I was paired up and we were Encik Mujahri's anak angkat for that period. I hope I got his name spelled correctly.
We hopped onto his car and we were on our way back home which was not very far actually. Say maybe one to two kilometers away?

AT HOME
To my surprise, the rumah kampung I thought of didn't really look much like anything I would have imagined it to be. Fully made from wood and raised several meters from the ground. As a matter of fact, the house was made out of bricks but of course not 100% of the house is made out of bricks.
It has a very spacious living area, a huge resting/TV area, a dining area, kitchen and a veranda. It's something like a smaller version of a bungalow, seriously!
At home, we were introduced to our emak angkat. Had a chat with our bapa angkat and then we went back into our room for a rest. There is a guestroom in the house for people who take part in the homestay program.
Later that night, we had our dinner and then En. Mujahri drove me and Citra back to the Homestay meeting place as there was another place we were heading to that night, which would be the Kuala Selangor Firefly Park.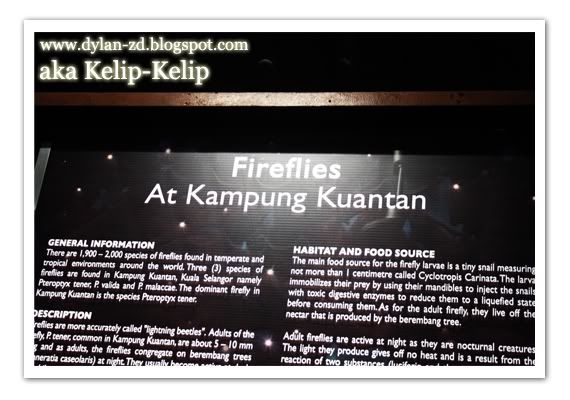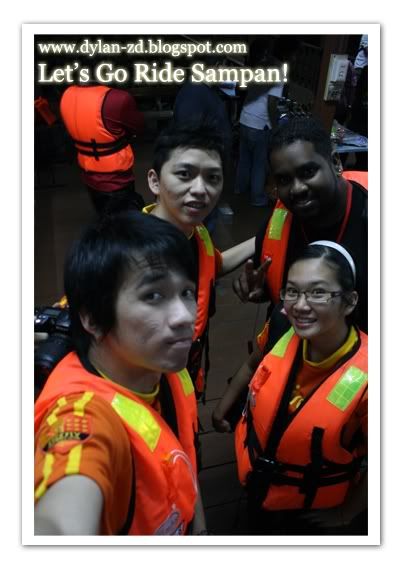 KUALA SELANGOR FIREFLY PARK
Some of you might have seen one or maybe two fireflies fly by you at night but have you ever seen hundreds of them right in front of your eyes? If you have not, make your way to Kuala Selangor Firefly Park.
In groups of four, we were strapped into our life jackets and then stepped into a sampan where we will be steered along the riverbank near the bushes to take a close look at the fireflies.
Below is a photograph of the fireflies taken with my camera. Not much luck there.
Did you know that a male firefly blinks 3 times per second while the female firefly only blinks 1 time every second?
The moon was shining brightly that night which makes the view of the fireflies less spectacular so they say.
But being the first time for me, it is already spectacular for me.
If you wish to experience the wonderful sight of fireflies, make your way here to the Kuala Selangor Firefly Park.
Take a sampan ride which will cost you RM40/sampan, maximum 4 person per sampan.
Enjoy the experience.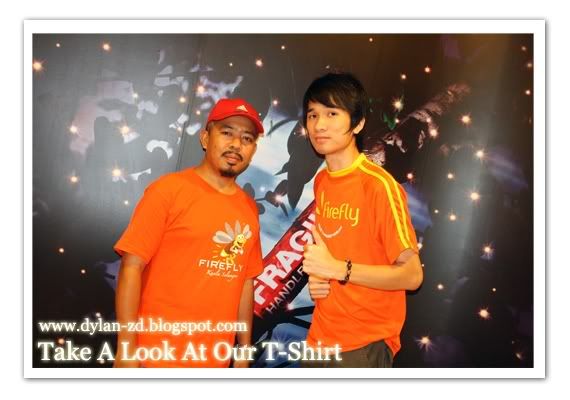 After the sampan ride, we were taken into a small showcase area where they played us a documentary about the Kuala Selangor Firefly Park. We were then given a short explanation by En. Zulkifly Bin Samad. Gathering much info needed about fireflies, we hopped onto our bus once again and made a little detour to have supper!
HAVING SATAY FOR SUPPER
We stopped by Satay Hut, Tangjung Karang for its famous satay. Nothing much to say here. We literally ate satay! I really love the satay they serve here. It juicier and more tender.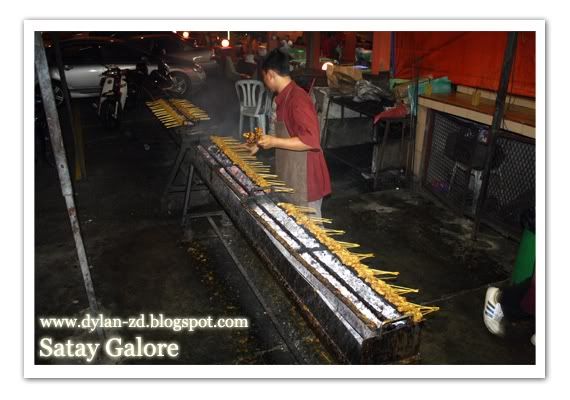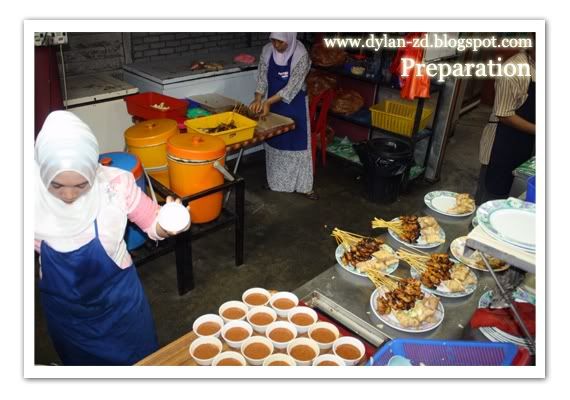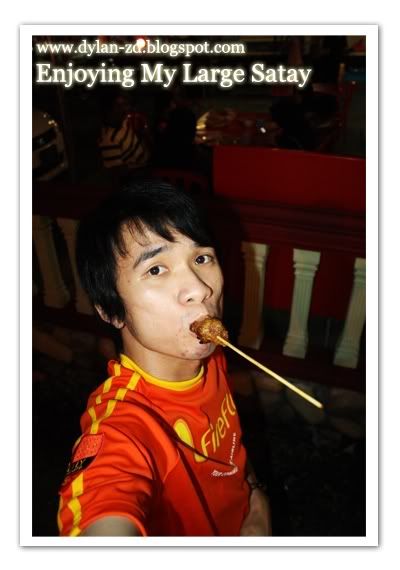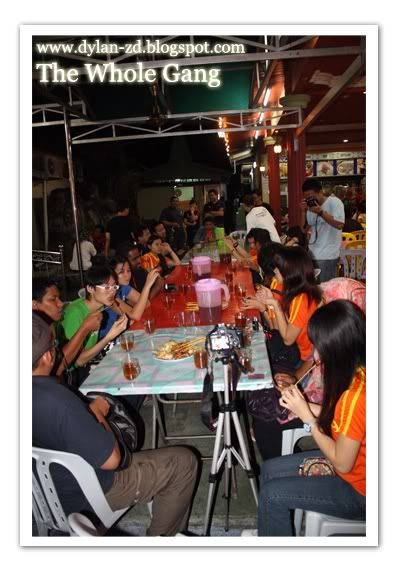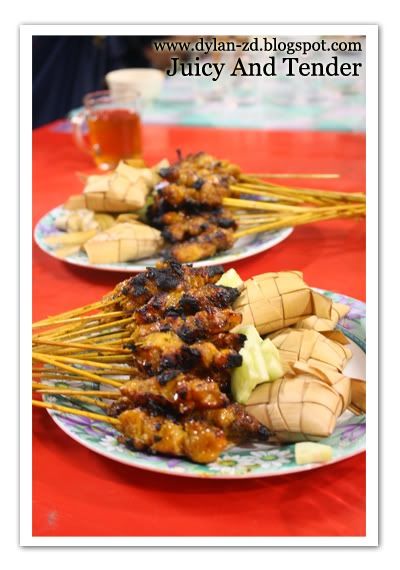 THE END OF DAY 3
So after supper, we returned to our kampung house to have a good night's rest as it will be an early start once again tomorrow morning.
This was how I spent my third day during the My Selangor Story 2010 Bloggers Tour. Enjoying nature and living the kampung life.
Do wait for my Day 4 post as it would be a whole new experince, as we will be heading out to Sunway City!
SUPPORT ME BY VOTING AND LEAVING A COMMENT
Do I deserve 5 hearts? I'll let you decide. Also, don't forget to leave me a comment in the comments section. I'll be happy to hear from you.
Remember to subscribe to
The Orange Banana
and also follow me on Twitter
@dylan3008
.
~~
Check out what the other bloggers have to say:
Day 3 Tour for MSS