Note: This will be a post on the 'HP Future Is...' event which all in all contains four parts.
Part 1: The Coverage of the 'Future Is...' Event


Just like any other day, I would turn on my notebook, go into Firefox, surf into Gmail to check if there are any new emails. (Notebooks, Firefox and Gmail are all technology; you'll get what I mean by this when you read further on)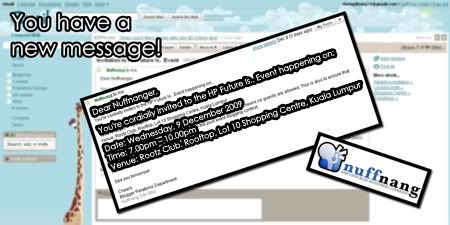 It seems like I will be going to yet another event. To further brief you guys about the event, I'm going to explain what it's all about before your heads go boom wondering what the hell am I talking about.
Hewlett-Packard Malaysia (HP)
had this event themed '
Future Is...
', whereby speakers from the online community had a forum about the future of things (mostly technology wise). Thus, 5 Nuffnangers had been selected to be the 5 panelist that day. They were,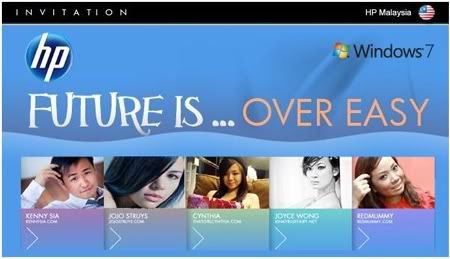 RedMummy from
Redmummy.com
(Related link at
Nuffnang' Blog: HP Future Is...
)
Mankind has evolved greatly throughout the years, decades and centuries and so has their brain's ability. Which brings us what we have today in life. Man has successfully invented new technologies, made massive advancements in life all in the purpose to make our lives easier.
(How true is that?)
The simplest example is the handphone. From shape and size of a briefcase, it has changed to a size of a water bottle and then it shrunk smaller and slimmer. Technology has made this possible. We can now poke our fat fingers on the tiny keypads.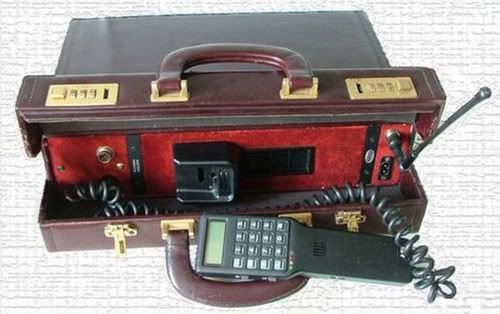 Meet the gigantic!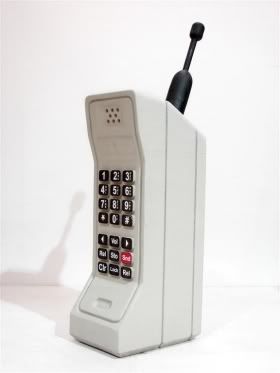 People were tired of carrying briefcases, so they made water-bottle-phones instead
Is technology advancement really that useful? Is it more of a pro for us or more of a con? Can we live without technology? Will we ever survive? To have these questions answered, Hp organized and event 'Future Is...'. Now, let's get it started.

This brings us to the Rootz Club, Lot 10.

In Malay:
Akarz
Upon signing up as the selected 25 Nuffnangers for this event, we were given a goodie bag by HP. A laptop bag was one of the goodies! So, anyway let's go inside.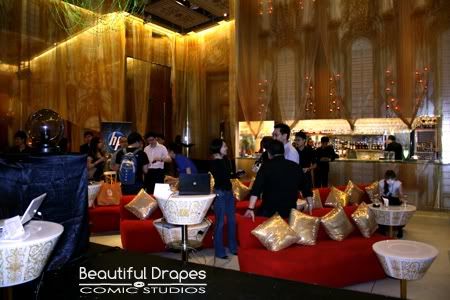 Wonderful Decor
The whole club was rearranged to suit the event. There's a T-stage in the middle with comfy red sofas arranged facing the front at both sides. They had soft pillows too. Besides that, HP had put up a lot of their netbooks, notebooks, laptops whatever you call it, all around the club for us to test them out. To those who are unaware, they might even think that they had walked into a very fancy cyber cafe.

The layout of HPs
One of the HP products on display was the HP Envy.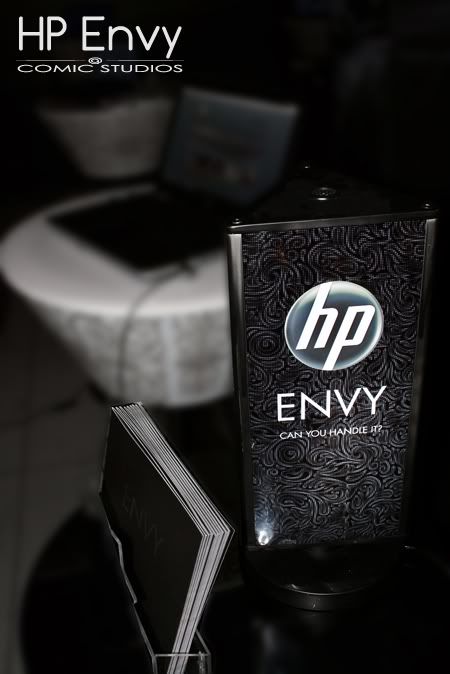 Can you handle it?
The crowd started to pour in after some time.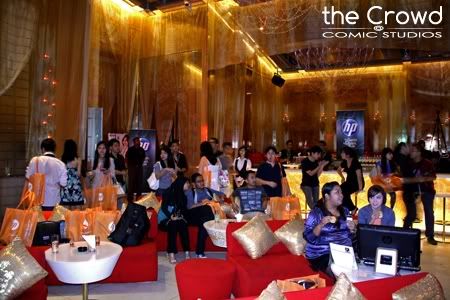 Let's get comfy
Just so you know,
Will Quah
(host of the Breakfast Show on ntv7) was the emcee for the night. Emcees are not just a voice for an event, as they are the one who keeps the event alive. Will Quah has done a very good job emcee-ing that night. Keeping the guests entertained as well as the panelists.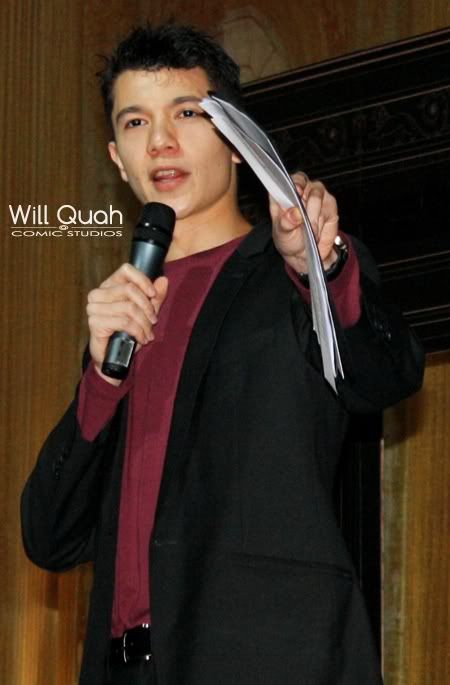 Will Quah

I can still remember the way he encourage people to clap. He gave out a statement saying that usually people go to events with their hands free but when bloggers go to events, they are either holding a camera or a cellphone tweeting away. Thus obstructing them from clapping. So true.

'Please try to clap...' he said.

The night started of by having Mr. Danny Lee, HPs System Manager to give out a few words.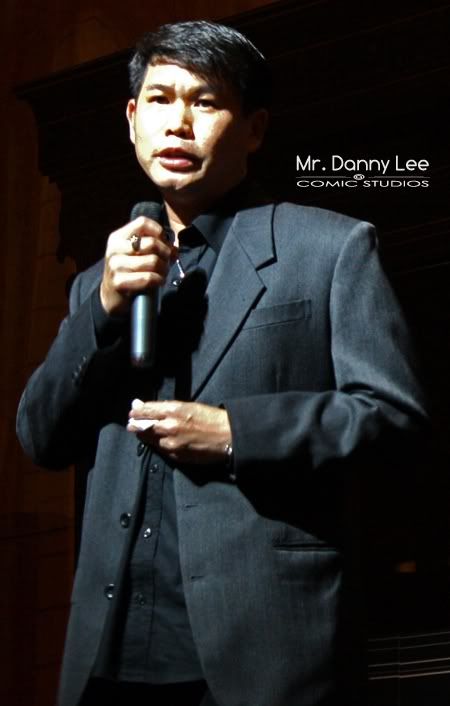 Mr. Danny Lee

A quote from Mr. Lee himself, "...to deliver beyond expectation of customers...". Now that is what HP is promising you.

Further on, he gave us some statistics saying that there are 1.73 billion internet users all around the world and from that 1.73 billion, 43% of them are from Asia. Now that's alot! Talk about technology eh? Eveybody's using the internet now. It's like part of our lives already. Can we live without it? Let's explore further with our panel of speakers.
But before that, a word from the organisers...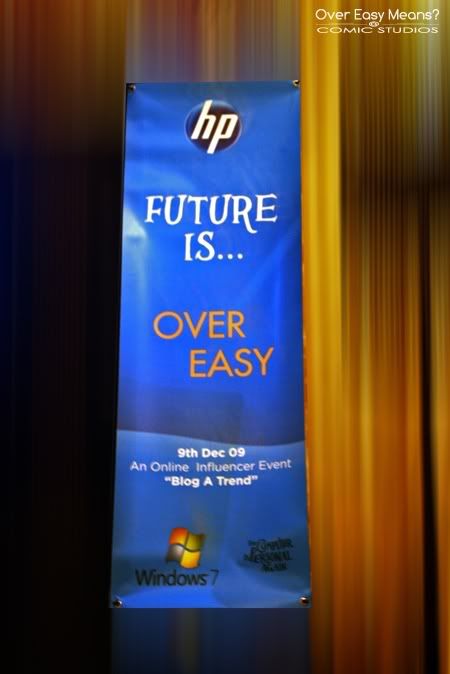 Future Is... Over Easy
Introducing the 5 bloggers for the night. From left to right, Kenny Sia, Jojo Struys, RedMummy, Cynthia and Joyce!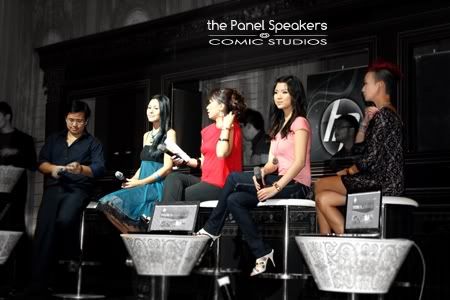 The five panelists
Let's see what I have written down on my notepad. (Yeah, I took notes XD)

Question: Could you imagine life without technology?

Answer (Jojo): (She said computers are like men) ...love them, hate them, you just can't live without them.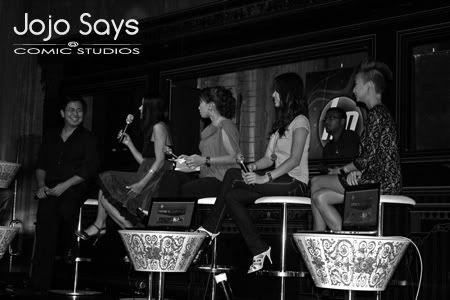 "I do love it lah", she said.

Well, it is true to an extent that we can't live without a computer in this modern era. Everything around us revolves around a computer system. Almost everything is computer generated. I wonder, how will it be now if the computer was never invented? Give it a thought for awhile before reading further.

Question: How technology changed your life?

Answer (Kenny Sia): Technology are not only about computers and communication...(This is where he went on talking about how he met his ex-girlfriends.)

He mentioned that he met his previous 2 ex-gfs on the internet. So I guess what he's trying to say he is that technology is an advancement in life for us to make social links. This is how you get to know people from all around the world and thus makes the world smaller.

Kenny Sia, "I got to know my ex-girlfriends through the internet."

The internet, a technology that enables us to meet new people from all around the world. It is great if you look at it from one point of view. Connecting people is a good thing, it gives us the chance to learn more from others. However, if you look at it from another perspective, is it actually safe? We have heard of many cases, all rooting from a person getting to know another through the internet. Then again, if we take away the internet, will we be able to survive?

Moving on,

Question:
How many hours per day do you use the computer?
Answer
(Joyce):
10-14 hours when she was still working and currently she spends about 6 hours per day on the computer.
(Cynthia):
6-10 hours on days when she has no classes.
(RedMummy):
10-12 hours
(Jojo Struys):
2-5 hours per day as she's more on her mobile.
(Kenny Sia):
25 HOURS! (No, that's not a typo)
It seems that people are spending more time of their lives in front of a rectangular shaped screen more than going outside to smell the roses. It is like we are stuck to our computers every single day. It is already embedded in our lives and there is no way we are getting rid of it. Staying in front of the screen for too long is a no no but somehow we still can't avoid it, may it be due to school or work. I guess technology should go one step further by inventing some kind of computer which grows greens. That way, we can smell the roses and work at the same time.

Here's another question which was passed to the panel. They were ask on what was the most amazing technological advancement beside from computers, the internet and handphones. Watch the video.

Technology is advancing very very fast if you ask me. From what we were able to see in the fictional movies back then are now or have been a reality right now. Like what Will Quah said about the James Bond handphone-watch thing, it is available in the world today. If this is true, that what we see on television will sooner or later become a reality, does this mean that we will be having a real size Power Rangers Megazord in the near future?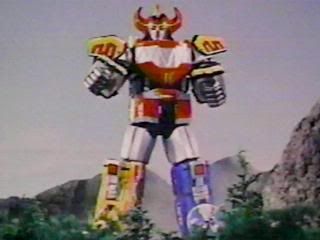 Go Go Power Rangers!

If the Megazord is invented in the future, can I have one for my birthday?

We have been talking about the 'greats' of technology but what about the drawbacks of technology? This was the question posted from one of the guests to the panel.

Here's what Joyce answered,

She said that there was once her office servers were down and everybody couldn't do anything! A lot of money will be lost this way.

Jojo added on later saying that, "Time is money".

It is true, 'time is money and money is time'. A tech failure can cause a whole company to lose a lot of money. Technology failure can even take down the whole country. There's this show, I forgot the name of the show but it has Vin Diesel and Justin Long in it. It tells a story wherby the whole country was taken down by someone who is holding a revenge. All is done with the use of computers. Technology doesn't sound very safe anymore when there is hacking.

What do you think?

The Question and Answers was then ended. The panel then moved down the stage back to their comfy red sofas.

To end things up, we had a Director from Microsoft to deliver his closing speech.

This is Mr. Low
On to the next agenda, Mr. Danny Lee and Mr. Low was invited back on stage to officiate the Blog-a-Trend contest. Blog-a-Trend is a contest for the selected 25 Nuffnangers to blog about the post-event in their blogs. Eventually 3 lucky blogger will win him or herself a brand new limited edition Studio Tord Boontje HP Mini netbooks worth RM1599 each!

Behold the crystal ball!

With the power of HP and Microsoft we officiate 'Blog-a-Trend'! (No, that's not what they said. I just imagine that would be great if they had really said those words)

*POP!*

*POW!*

Two cannons popped confetti into the air making the room snow coloured papers. It's official.

It was now time for a group picture. Group shots are never to be missed in events.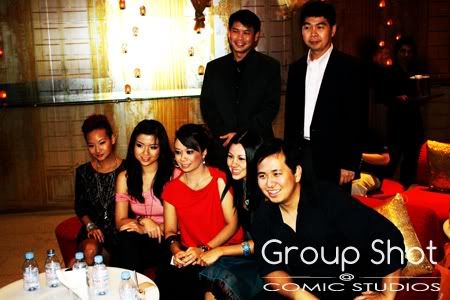 Say 'Future Is'!
Clicks after clicks. Snaps after snaps. Lights was flashed again and again to the eyes of these 7 humans. Being photographed like celebrities. Wait, they are in a way called celebs. I wonder if they were seeing stars after this group picture?

That was how the event ended. Which meant it was time for another photo taking session. This time with us, the guests.

The crowd again

People were mingling around, talking about technology I assume. Taking photographs while at it. I joined in the fun, searching high and low for the 5 panels to have them take a photograph with me.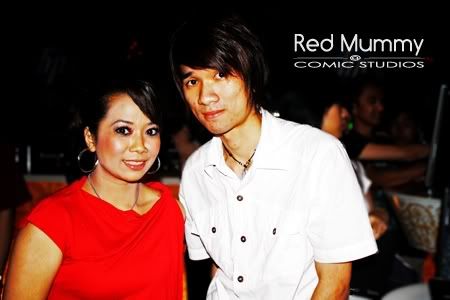 Redmummy
I was introduced to her blog when I watched
Project Alpha
online. I've read her blog (I still do) and also left some comments on some posts. That's was how RedMummy got to know me. She even featured me in her blog some time ago
(check it out here at RM: 2+2 Featured Bloggers)
. To my surprise she was the one who called me first before I had the chance to talk to her during the event. RedMummy dapat recognise aku ye?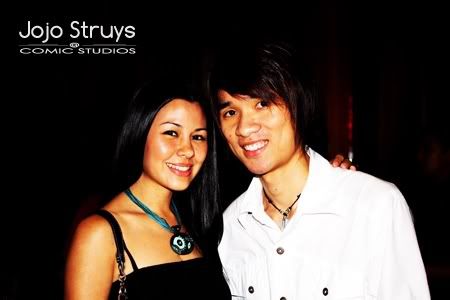 Jojo Struys
Now how can I miss the chance to grab Jojo for a picture. I've always wanted to take a picture with Jojo Struys. I hadn't got the chance to do so during the
Playboy Event in MidValley
, but I've gotten my chance now. Ever since I saw her on tele last time, her charisma, I like. She appears to be so happy and bubbly wherever she goes, whenever the time is. It's hard to find someone now who has a smile on their face 24/7. Then again, how could you resist not taking a photograph with a pretty lady?
Kenny Sia
YES! Finally I've met the one and only Kenny Sia. People don't call him Kenny, people don't call him Sia, it has to be Kenny Sia. I was introduced to his blog when I was still in secondary school. Amazed by the way he writes, putting funny crap in every post of his makes me going back to his blog to find myself some laughs.

Here's Cynthia from ThatGirlCynthia.com. She's laughing here cause my friend asked her to do the 'hand-cover-mouth' photo pose. It's the only photo I have so yeah, it will be posted up in this entry. We will take better photos in the future yes? Haha, something looks wrong in this photograph.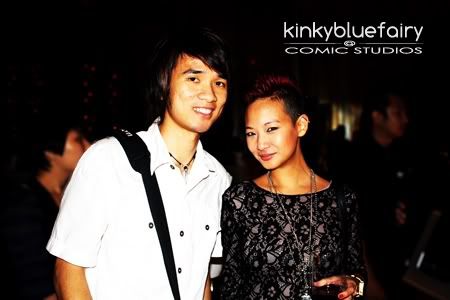 Kinkybluefairy
Not forgetting Joyce from Kinkybluefairy.net. She has killer style I tell you. I guess from the looks of it, she's the wild one among the 5 eh? Love your style. It's a killer (I meant it in a good way).

And so that brings us to the end of things. Technology or no technology, we have it now. It is best to use it for a good cause and not the other. Use it wisely as not to harm yourself or harm others, as technology can do damage too.

The Future Is...What You Want It To Be!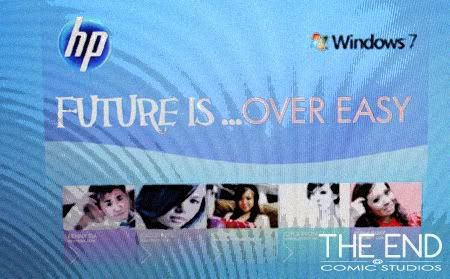 ---
Part 2: My Personal Thoughts On Technology

Technology noun

(The study and knowledge of) the practical, especially industrial, use of scientific discoveries

Future noun

A period of time that is to come

These two words can be closely linked together as the future will surely bring new technology. Advancement in technology is made available to guide and make our living a little easier, sometimes much more than that. Mankind has grown and evolved together with technology, slowing adapting to its functions. Like it or not, technology is everywhere now. Technology is everything around you. Technology helped to bring you into this world. Without technology, we will still be stuck in the Stone Age, living in caves and wearing only leaves.

With technology, it surely helps us a lot in our daily lives. The simplest things in life like the clothes we have on are available because of technology. The homes we are living in are because of the advancement of the architecture and engineering technology. Machines, computers, robots, vehicles, the zippers on your pants, water bottles, paint, swimming pools, water heaters, automatic flushing systems, fingerprint detection system, mobile phones, laptops, needles, soft toys, facial products, tooth paste, hair dryer, skyscrapers, underground parking lots and many more, all these are available today with the help of technology. It is a fact that technology is all around us.

These advancements are made so that it will help us make our lives easier. For example, there no more mashing up peppers and chillies in a stone bowl, we have the electronic blender now. But then again the stone bowl was produced and made with the help of technology as well.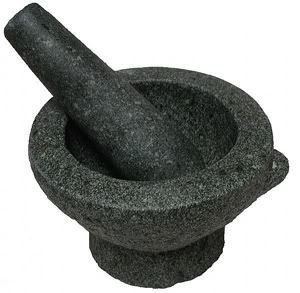 Ancient history
Once again I'm restating that technology is there to help us but have we ever thought on the bad effects by having technology? Do you know that because of technology, our environment is affected very badly. Pollution is going on everywhere. Polluted smoke and gases coming out from factories and the from vehicles' exhaust.

Factories are built so that we can produced other technologies, but little did we know that by producing such technologies to lift the weight off our hard lives we are on the other hand harming our mother nature. Are we making our lives easier or are we blinded by the thought of having something so advance that making some damage to Earth doesn't really matter.

Vehicles like cars, trucks, vans, motorbikes are all available today because some smart person made a huge step forward, technology wise, all in favor of making us humans a better life. Just like Yin and Yang, whenever there is a positive side, there will surely be a negative side. We can now travel faster to our destination but as we are traveling, our vehicle gives out poisonous gases into the air polluting it.

Have you gotten my point yet? Are we too selfish? To enjoy life, with the consequence of destroying nature all at the same time?

I am not against technological advancement, it's just that we humans are considered to be 'the smartest'. So, why not come out with something smart and intelligent? Think before you do as what you already did sometimes can't be reversed back.

The Future Is...What You Want It To Be.

---
Part 3: The Future of Design
Design is evolving day to day. New designs are thought of everyday. Being a student learning design, I am very aware that it is crucial to have new creative designs every time because old designs can go out of trend very quickly.

Technology has surely played its role in helping produce new designs. I still remember myself playing the the Paint program on my desktop. Now we have lots of programs to aid the designers and the most common ones are Adobe Photoshop and Adobe Illustrator.

Ancestor of Graphic Programs

Can you imagine if there was no technology advancement in creating new programs for designs, we will still be using 'Paint' today! My blog won't look like how it is now and I don't think there will be any nice photos posted up here too.

Architectural designs are all advancing by the day. More and more new structures are built each with its unique design. Without technology, this would be impossible and we would still be living in houses with just four walls.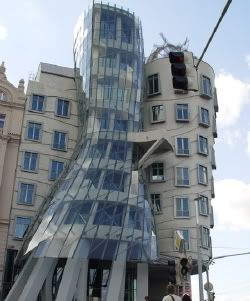 With the help of technology, we can now live in a building shaped like an hourglass
It will be a mystery on what the future will bring us in the advancement of the design field. Only time will tell.

---
Part 4: HP Mini by Studio Tord Boontje series
This blog post might just win me a limited edited Studio Tord Boontje HP Mini netbook worth RM1599!
HP Mini

Here's a quick overview of the HP Mini
(taken from HP's Official Shopping Website)
.
Simplified daily PC activities with genuine Windows 7
Easy Internet1 access to e-mail, instant messaging, video chat, social networking, shopping, banking, research, and more
An Intel Atom processor for reliable, energy-efficient performance
1GB of system memory and hard drive options of 160GB or 250GB, or 32GB Solid State
A nearly full size (92%) keyboard for comfortable typing
Transfer of data to and from other devices via three USB ports
Integrated HP QuickSync software, which lets you synch files, photos, and videos with your primary PC when connected to the same network
Not forgetting to mention it is also
Designed with the Environment in Mind
This Mini's features include:
A 10.1" diagonal mercury-free LED display
A reusable microfiber protective sleeve
Outer box, cushions, and user guide pages made from 100% recycled material and printed with soy/water-based ink
ENERGY STAR® qualified
Now this is what I call environmentaly friendly technology.
---
*fingers crossed*
Signing off~ Toodles!