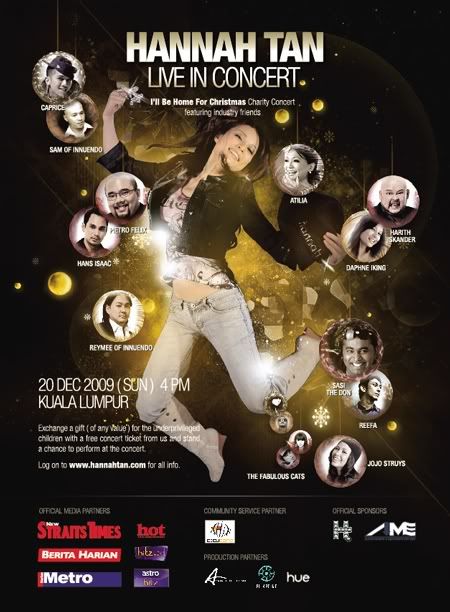 It is that time of the year once again. Christmas is here. Season greetings to all. This holiday season Hannah Tan held a charity concert featuring herself and also her industry friends. What's all this about? It's all about giving back to the community. Christmas is about giving and receiving and what not a better way to do it than holding a charity concert whereby people get to watch the concert for free and by doing a little deed, which is exchanging presents for their concert tickets. These presents collected will go to the underprivileged children.

'I'll Be Home For Christmas'
, a phrase widely used all around the world. Often used by family members who are away from home, giving assurance that they will be back to celebrate this festive season together. What happens if one has no family members? No relatives. No friends. Just him or her, alone. Hence, there will be no Christmas. No joy. No laughter. This isn't how Christmas should be.
Have you ever wondered what it would be like waking up one day and being all alone? With nobody to talk to, nobody to share your feelings with, nobody to share a laugh or two. Life would be tough living alone. Sad to say that in this bitter world we live in, there are such people living alone. It is sad to see that young children are left to live the rest of their lives without a real family.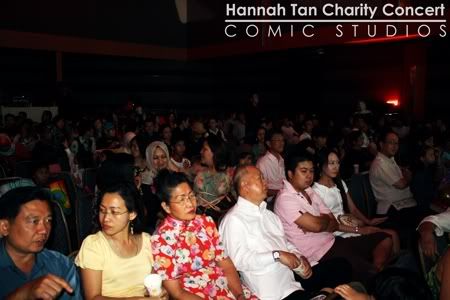 Sometimes, things like these can't be avoided. Problems never seem to be free from this world and because of these problems people suffer. People are left to be alone in this world. Cold and alone. How can we help?

Should we feel passionate about helping others, independently take a step forward. Do what you can in your power to make this holiday season be what it should be.

Doesn't matter how you are doing it. With a whole bunch of friends, a couple maybe, or just doing it alone. What counts comes from the heart. The intention to act first.
Be loud and be strong. Spread the word out. Let the whole world know that there are people who are left alone. Make them realise that you are doing a good cause which will make them do the same.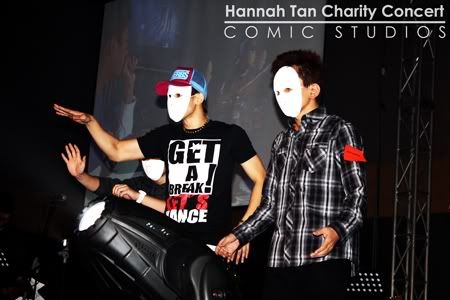 There are still people hiding behind a mask, denying actual facts of life. Lying to themselves. No! The world is not perfect yet. At least, not until we have given back. Give back to the community. Lend a hand. Help out.

On the 20th of December 2009.
Hannah Tan
gave back to the community. She wanted to make people smile this Christmas. To have at least something to remember about this holiday season. To feel more homely. That's when this happened...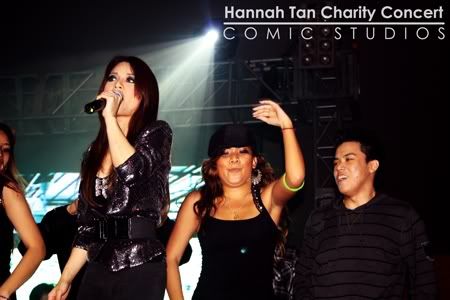 A concert was held. Not like any concert as this was a charity concert. Along with Hannah's friends in the industry, hand-in-hand they are putting up a show to help collect gifts for the underprivileged children. Tickets were exchanged for present. Everyone had a chance to give back.

Young and old. We all had one goal in mind. To lend a hand and make someone smile this Christmas.
It is not how much that matters. Value is not the main point. The sole purpose is to help out the best we can. Big or small, what matters the most is your heart to do so.
Have you done your part? Have you given back?

Thank you Hannah for doing a great job on the concert. I enjoyed it and I'm sure everyone else did too. Now we are sure that there will me more smiling faces this Christmas.