Day 3 was just as exciting as the two days before. One of its main event was the Mr. and Miss Tourism Search. This event was organised and brought to you by the committee in-charged of the Tourism Booth. Scheduled to start at 12.30pm, I rushed there straight after my 12pm class which ended half an hour later. Good thing it ended early. Happy!

Here's how the event went. Introducing the 6 finalists.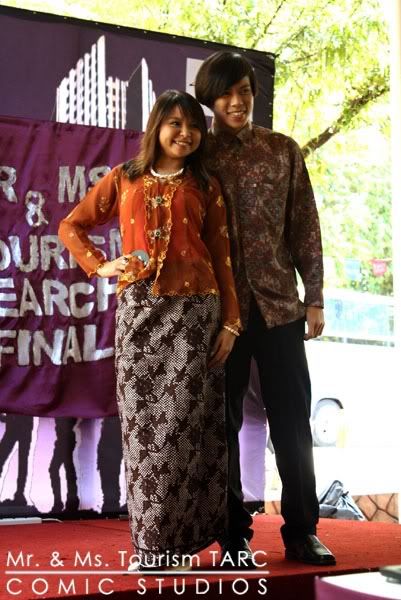 M1- Lim Meng Seng

F1 - Evelyn Yong Chin Foong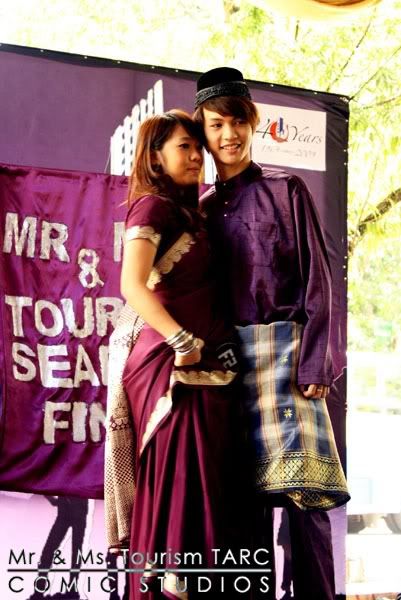 M2 - Jonathan Ong Meng Soon
F2 - Mia Chong Earn Hui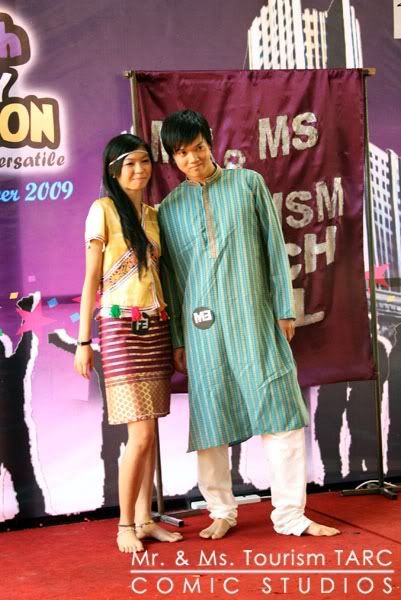 M3 - Sin Guan Ming

F3 - Jessyca Cheong Pik Yan

After that quick catwalk with the finalists wearing traditional clothing. It was time for them to show off their talent in a talent show. This is the part which I'm always interested in, in every pageant search. Before we get there, let me introduce you the three judges for the event.

Miss Justina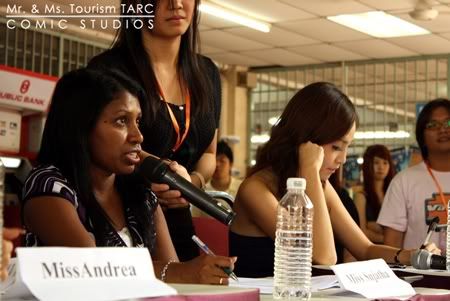 Miss Sujatha

Miss Andrea

Now, back to the talent show. First up was F1 Miss Evelyn who would be singing a song. You can never run away from a singing performance in a talent show, There always seems to be at least one person who's going to sing. Did you know that Evelyn an a group of 3 was the champion for the Encore 2009 Singing Competition?
People call her 'Chipmunk'

Not long after, it was M1 Meng Seng's turn to perform. He did a dance cum story-acting performance for us. Man, you should have seen him strut his moves! Best part of all was the time when he danced to the famous Aaron Kwok - Dui Ni Ai Bu Wan song!
dui ni ai ai ai bu wan~
Love the afro dude!

Next up, we have M2 Jonathan Ong and F2 Mia who performed a short sketch relating to tourism of course, titled 'Kampung Boy, City Girl'. It is about a kampung boy with his ah beng style, coming into the city for the first time and being facinated with Kuala Lumpur's landmarks. Later on, kampung boy meets up with city girl who is of course little miss pampered. A comedy it was, laughing my way from the beginning till the end.

City Girl, "you see my lipstick!"

M3 Guan Ming and F3 Jessyca was up next each performing a song. Both with matching 'I LOVE NY' tees. Hey, shouldn't it be 'I LOVE KL'?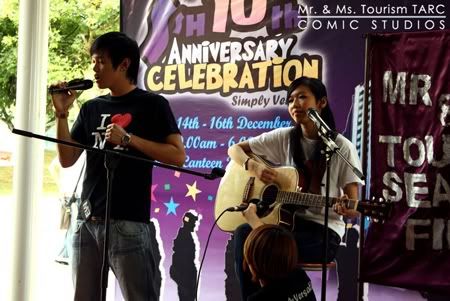 Girl with guitar = sexy!
That's all for the talent show section. What we have next will be the question and answer section. What's a pageant search without a QnA section eh? Here are photos of each finalists answering questions posted by the judges. I was busy taking photographs, can't remember what was the judges questions.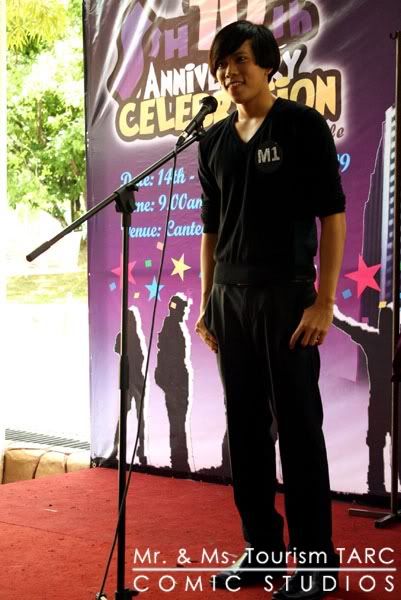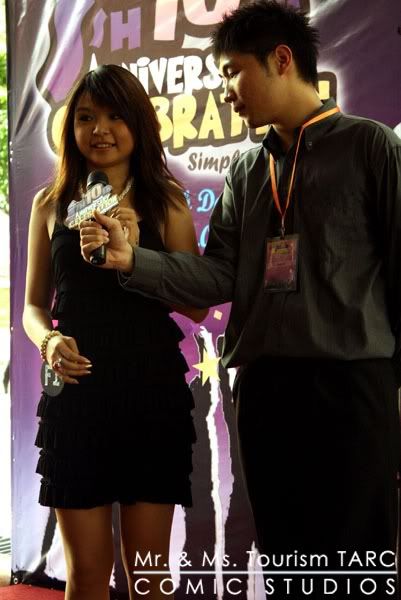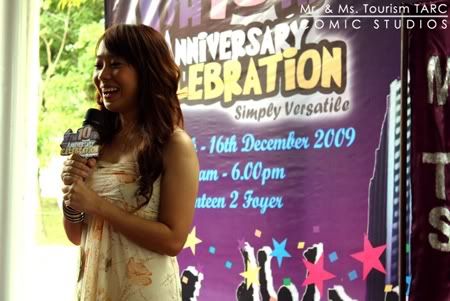 Now, the time that you all have been waiting for. Who won the name of Mr. & Ms. Tourism TARC 2009? *drum rolls* The winner goes to F1 Evelyn and M2 Jonathan! Both of them won a travel package to Pulau Redang's Laguna Resort! *whaddafreak* A TRAVEL PACKAGE!

Congratulations to both of you. You guys really deserve it!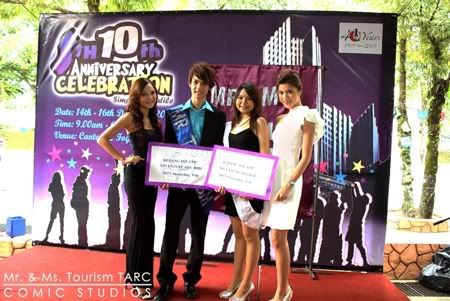 Mr. & Miss Tourism TARC 2009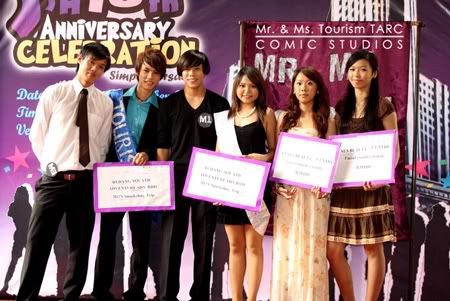 A job well done to all of you!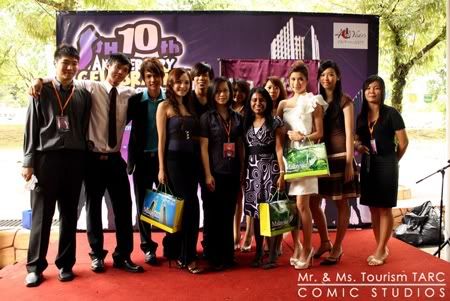 Final group shot

The people in-charge of the Tourism Booth has done a great job on this event. Kudos!

Of course the day did not end just like that. Well, I walked around and bumped into these two models. They were promoting for the Fashion Design booth. Took out my camera and snapped away.

Earth and Water
Later that evening, it was the main main (stress on the second main) event everybody was looking forward to. A stage performance by Danell Lee (Winner of Malaysian Idol Season 2, yeah, he changed his name). I was there early, took up a nice spot in front with my camera in hand. I waited and watched the organising team communication with one another, giving orders here and there with their stressed out faces. Haha! Reminded me of the time when my friends and I used to organise big events. Memories~

Pictures below. Enjoy.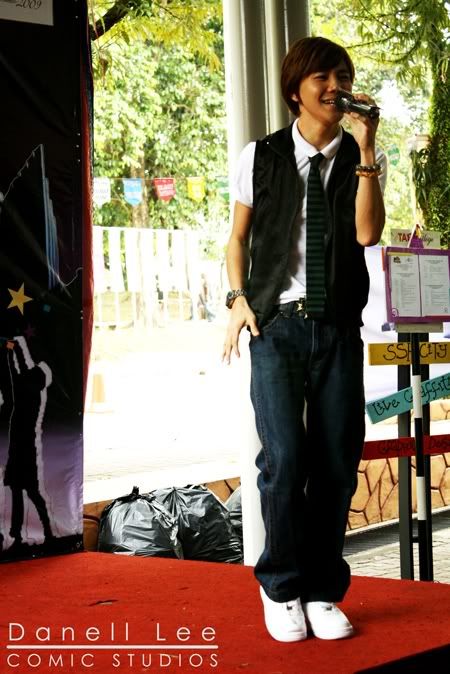 Performing three songs at the event. With a photo + autograph session later on. I did not stay for the whole thing because of class. Well, that's about it for Day 3 from me.

Great job to all APR & AMS students and all those who are involved in making this 3 day event a success! Congratulations on the job well done!

If you would like to read more on the preparations for this event. You might want to check out their blog at
SSH Turns 10
.
Till the next event, I'm Dylan, signing off!