The Situation
It gives you a headache whenever you go on a vacation out of town or maybe to another country and you can't seem to figure out how to get transport from one place to another. You don't even know where the tourist spots are located. This is when you take out that huge piece of map and compass and hope that you'll find your way around.
What happens if you don't even know where the tourist spots are? Now that is a great big problem. You'll start wondering around until you see something interesting which in the end isn't that much interesting at all.
So if you look around in Malaysia, there are a lot of tourists who come here for their vacation. I'm sure you have seen a few who has a map in hand looking all confused.
There aren't much directory boards or information counters where tourists get to stop to search for information. Heck, Malaysians aren't that even that helpful, which is why, 'You are all on your own'.
The Solution
We are now living in a world where technology is of abundance. Smartphones, laptops and now the iPad. Wouldn't it be great if there was an app which allows you to plan your vacation ahead of time?
An app which solves the problem of looking for transportation. It also helps a person to locate various tourists spots which then also explains and let them know what is there to do in that particular destination.
Introducing to you, iGuideMY. ('MY' stands for Malaysia)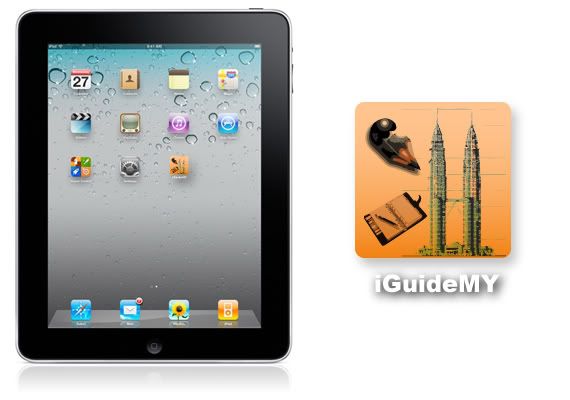 iGuideMY Concept
To have an all in one planner that is able to locate various tourist spots.
Target Audience
International tourists
Locals going on holidays
Smartphone users
iPad users
iGuideMY Functions
The iGuideMY can be summed up in five main parts, each with its own special feature which will work nicely together.
i) Map Function (with GPS)
ii) Places Locator
iii) Public Transportation Schedule/List
iv) Places Directory
v) Personal Planner
iGuideMY App Navigation
Places Locator > Places Directory > Public Transportation Schedule/List > GPS Function > Personal Planner
How It Works
Let's say that you are a tourist coming to Kuala Lumpur, Malaysia for a vacation but you do not know where the local tourist areas are and how to travel from one place to another.
-Step 1
So you take out your iPad and open up iGuideMY.
You type in the place you will be heading to. Example, Kuala Lumpur.
A list of tourist and entertainment spots will be shown along with a brief description.
Select your place of choice.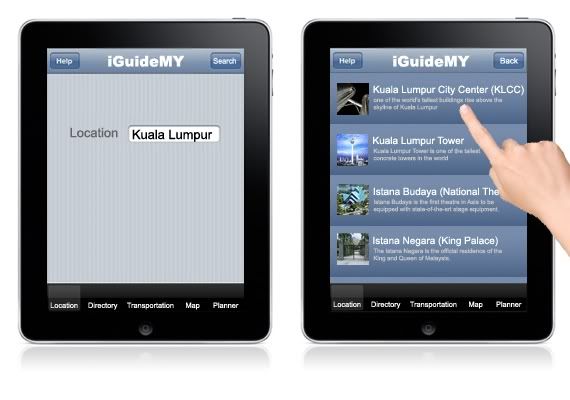 Step 2
Let's say you have chosen KLCC.
This will then open up the 'Places Directory'.
It will then show you detailed information on KLCC.
There will be a description on KLCC together with a list of things to do in KLCC. It will be like whole new directory.
It also includes pictures of KLCC. The best thing about this is that you get to see KLCC in a 360 degree view instead of a normal 180 degree normal picture view. Just slide your finger across the photo to turn the view around, even up and down!
You can even talk a virtual walk in KLCC by 'zooming' into the picture. Slide both your fingers apart to 'walk forward'.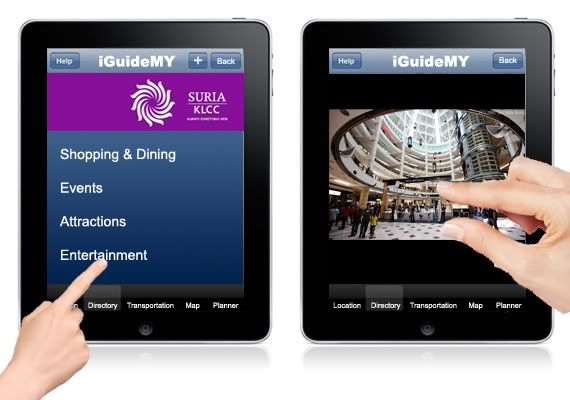 Step 3
After you have decided that you are going to visit the place, click 'Add to Planner'.
After that, choose another destination to go to.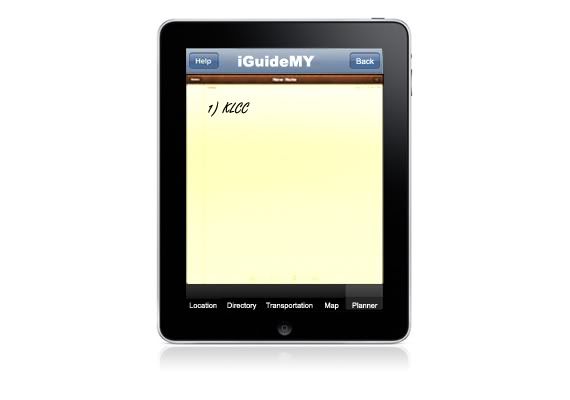 Step 4
After choosing the second destination, you will now need to plan for your transportation.
Go to 'Public Transportation'.
View the various public transportation schedules for buses, LRTs, taxis, etc.
Key in your destinations in the fields provided.
A list of suggested transportation will be shown.
Select your choice and add to list.
This will then update your 'Personal Planner'
Step 5
Open up your 'Map Function'.
Your whole route will be shown here.
There will be a GPS function to make sure that you are going the correct path.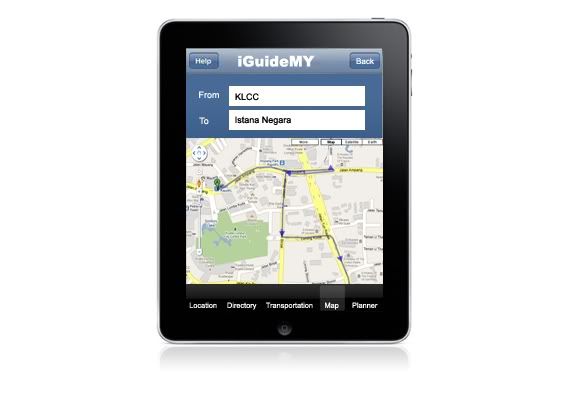 Step 6
You're done!
Book your flight tickets and enjoy your holiday!
*All images are for illustration purposes only.
~~~
Yes! iPads are now available through Maxis! Get yours now!
Remember to subscribe to
The Orange Banana
and also follow me on Twitter
@dylan3008
.