I'm sure many of your have come across blogs which are written in broken English. Thus, you think/say this, 'Please Use Proper English To Blog!', 'I Hate Bloggers Who Doesn't Blog In Good English', 'KNCCB Don't Know English Then Don't Blog!'.

Okay maybe not the last statement but I'm sure most of you have had thoughts that blogs with bad english is a blog not worth reading. Actually the statement in the title of this blog post can go both ways. Either you are telling that to a blogger who knows how to use proper English but just refuses to or you might be telling a blogger who knows and uses English but isn't very good at it.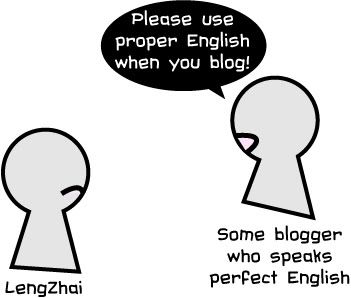 The story might be different if you are telling this to someone who knows how to use proper English but just refuses to. Simply said, it is the fault of the blogger. However, if someone uses English to blog but he/she is not good in English, is it okay for us to judge him/her and say that he/she has not quality in blogging thus saying 'Please use proper English to blog'.

It is not entirely a person's fault if he/she hasn't mastered the English language. I mean our country has people from all kinds of races, each having their own language. Although English is widely used, there will still be some who seldom or won't use English as their main language.

My experiences tell me based on the environment that I'm in, most chinese educated people do not use proper English. This does not mean that they do not want to use proper English, it just that they are poor in English.

So, you might say, 'Learn and Improve First!'

Learning English is a life long journey. We start from the time when we were still young, we graduate from school until we get old, we are still able to learn. It simply cannot be done in your education life, says 5-6years? So are you saying that if a person never gets to improve his/her English up to your standards, are you still going to say this, 'Please Use Proper English To Blog.'?

How can one learn English if he/she does not practise using it? Yes, there might be mistakes but do give them a chance to learn.