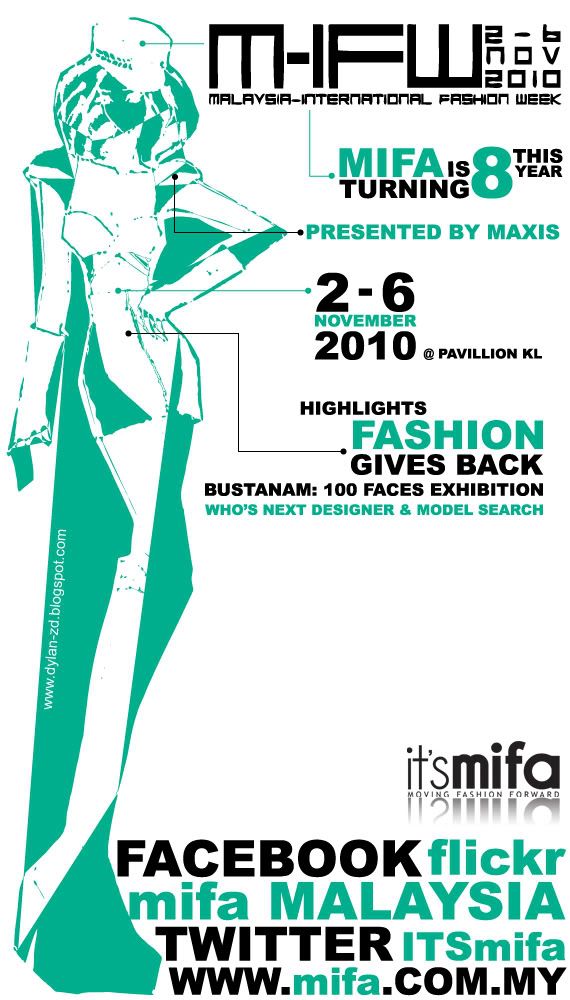 "ATTENTION
to all
Fashion Enthusiasts
,
Fashion LOVERS
,
Fashion Designers
,
Fashion Trend Setters
, probably anyone who is into the
FASHION WORLD!
"
You might have already know that M-IFW is back again this year. It's 8th cycle will take place this 2-6th November 2010 at Pavillion KL.
What is M-IFW?


Well, it is the largest fashion fashion event in Malaysia. With the backbone of the Malaysian International Fashion Alliance (MIFA), this annual event is carried out to support and also develop our local fashion designers here in Malaysia and also to promote Malaysian fashion into the global T-stage.



Who will be there?


Famous local designers such as Michael Ong, Datuk Bernard Chandran, Datuk Farah Khan and Eric Choong are among the massive amount of 70 designers who will be showcasing their designs at the prestigious 5 days event.



Will there be international designers?


Yes! International brands such as Emilio Pucci, Helmut Lang and Halstonwill make their appearance at the event where there will be 18 showcases altogether.



What about designers who just stepped into this field?


Up-and-coming new fashion designers will also get a chance to showcase their designs during M-IFW '10.



Anybody else?


M-IFW is endorsed by the Malaysian External Trade Development Corporation or Matrade, which is why the event will also attract trade and industry members including designers, fashion buyers and lifestyle media from the Asian region, Middle East, Australia and New Zealand.



What are we expecting during the event?


The highlights for M-IFW '10 are the launching of Maxis' online/mobile fashion portal, a photography exhibition featuring 100 iconic Malaysian personalities by renowned local photographer Bustamam Mokhtar, the annual Malaysia-International Fashion Awards (M-IFA) Gala as well as a charity children's fashion show entitled Fashion Gives Back for the opening slot.



I heard there will be a Fashion Gives Back exhibition as well. What is it all about?


The Fashion Gives Back exhibition will be set up at Café Stelle in Pavilion Kuala Lumpur from Nov 2 for two weeks. It is in collaboration with renowned Malaysian human sculptor Khing Chan. The exhibition is a preview of the art showpieces that Chan will create for the charity auction in June next year.

The art pieces that will be created for the charity auction include 20 boxes comprising life-like figurines of famous fashion personalities such as Bernard Chandran, Karl Lagerfeld, Asian supermodel Liu Wen and Anna Wintour. The figurines will be paired with limited edition items from 20 luxury brands including Tiffany & Co. Further, the signature art piece that will be up for auction is a miniature model of the stage of M-IFW'10. Seated at the front row of the miniature stage will be sculptures of famous international and Malaysian personalities, including our current Prime Minister.

The highest bidder will not only win the entire miniature stage art piece along with the sculptures and a chandelier courtesy of Alfo lighting, he or she will also be sculpted by Chan and be placed next to the Prime Minister in the art piece.

The funds raised via the event will be channeled to selected organisations to help children. Celebrity host and model Deborah Henry spearheads sponsorship efforts for the charity project.
Just to let you have a taste of what you will be expecting during M-IFW '10, here's a video of the models who are in the 'Who's Next Model Search 2010' doing a photoshoot with ROXY.
In my opinion, events such as these should be widely encouraged and also supported not only by those who are in this niche but also everyone else who are outside this niche. Being a designer myself, I feel that Malaysia needs to broaden its view and also be more creative in all aspects.
It is time for us to ditch the boring cliche dull ways of thinking and approaching a certain aspect. There are a lot of creative people in Malaysia. It is time for use to listen and support these people. It is time for the Creative Era to come.
For I believe, being creative brings out the fun in everyone. It is time for us to live a fun and colourful life. It is time for Malaysia to be creative.
Do go and support M-IFW 2010!
~~
Besides that, do remember to check out Nuffnang's Evangelist Page as Maxis has just joined in the family. Be a Maxis Angel now.
In accordance to this, Maxis together with Nuffnang has organised a contest for Maxis Angels to stand a chance to get hold of 2 passes to the MIFW Gala on the 6th November 2010 and also RM500 in shopping vouchers!
All you have to do is to
picture of your most stylish outfit that you would wear to MIFW.
So what do you think? Am I MIFW worthy?
Related links: