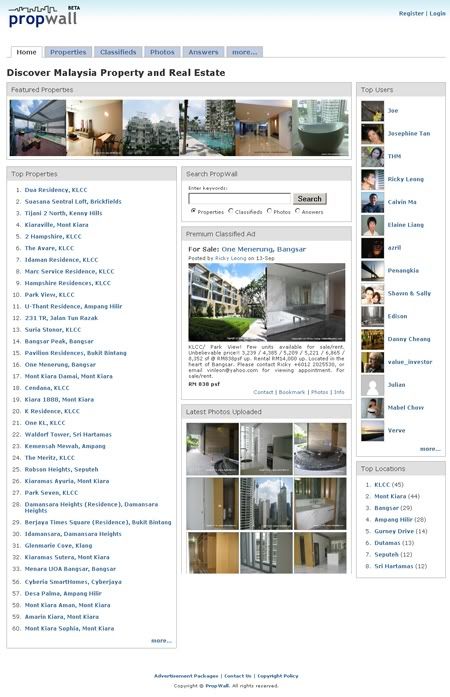 If you are interested in property investment or you are thinking of finding a place for yourself. PropWall is the place for you to start.

For starters, PropWall has one of the highest database for properties resources in Malaysia!

Some of you might think that looking for a place online is not very efficient nor effective. You might be having problems with the website's layout where everything they place inside so happens to look like a tornado ran through it. But no, PropWall is so cleverly arranged that it serves no problem at all to the users.

Usually when I stumble upon a website which is poorly designed, I will most probably hit the [X] button on the top. Surfing into PropWall made me want to look on further. In short, the layout is easy on your eyes.

PropWall has categorized its site into a few parts with easily accessible links at the top which are Home, Properties, Classifieds, Photos and Answers.

The main page is very well arranged into 3 columns. The main page is some sort of a summary of the whole PropWall website. It lists the Top Properties, Top Locations, Premium Classifieds Ads, Latest Photo Updates and Your Latest Questions Answered. This makes it easier for interested parties to start surveying.

The Properties tab will bring you to a new page, showing all the top locations in Malaysia from
KLCC
to
Kenny Hills
. For example, you can even find a place in
Petaling Jaya
here (
PJ properties
). Furthermore, it is also categorised into Condominium, House, Office, Shop and Factory. That makes it easier for all of us right? We wouldn't want to buy a place to live in and later find out its a factory!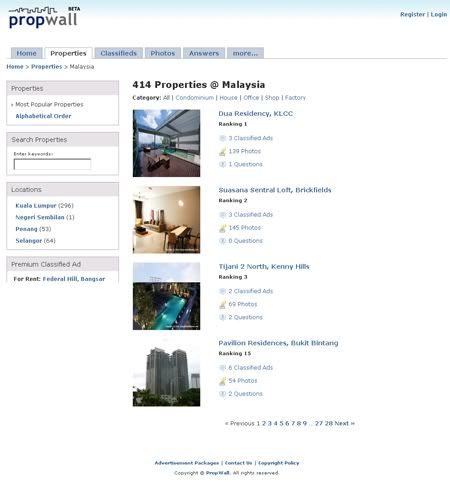 The Classifieds tab will list all properties up for sale or rent. You can get most of the information about the place here from the price/sq feet and loads of pictures and if your're interested make a contact with the owner.


The Photos tab well shows you photos of course! Last but not least The Answers tab will answer all your queries you might have.


There you have it. PropWall, the best place to start looking for your dream place!