On 19th February 2011. I find myself traveling 6000 feet higher right up to the hills where Resorts World Genting is located. I was once again invited by RWGenting to attend one of their great events! This this, it was 'Bloggers Day Out'.
10 bloggers including myself was invited to attend this event where by we were given complimentary meals and also a RM100 Holiday Card to enjoy all the great entertainment they have in First World Plaza.
Fun Fact: Did you know that Resorts World Genting had 19.9 million visitors in the year 2010? Now that is awesome! Let's reach 25 million in 2011.
THE ARRIVAL & PEDAS SPRINGS SPA
Upon arrival at the Genting Hotel, we headed to the Visitors Galleria for a quick tour and brief.
Next up, we were taken to Pedas Springs Spa. That's right, a spa! Bet you didn't know there's one in First World Plaza eh?
You can get there by taking the lift or staircase down which is behind Rich Dad Cafe.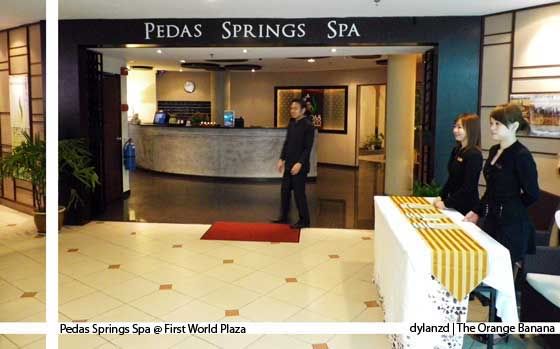 Pedas Springs is a wholesome family spa with various range of relaxation options. In Pedas Springs they have a Signature floating villa, 4 VIP Spa Suites, 23 treatment beds, Thai massage rooms, hot spring pools, infra thermal room, aroma steam room, a tranquil lake-view terrace and also a movie lounge!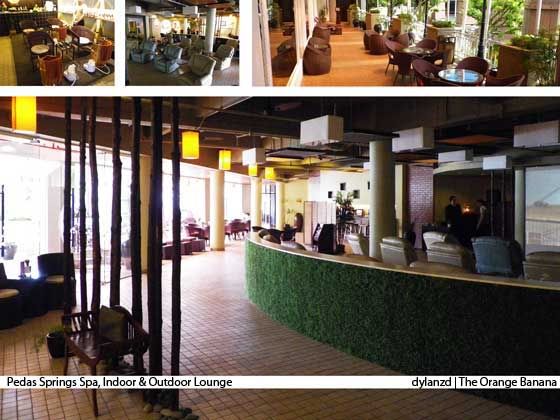 With just RM68, you will get to enjoy all the spa's facilities which includes the Thermal Springs Pool, Thermal Infra Room, Aroma Steam Room, Relaxation Lounge, Movie Lounge, Internet Access, Lockers & Safety Box, Luggage Room and Garden Terrace.

The bloggers enjoyed a complimentary Foot Steam + upper body massage. It was total relaxation. My feet feels as light as a feather after that foot steam. Great for people who have been walking around First World Plaza the whole day.
Nothing like a good buffet to fill n empty stomach. After a relaxing time at the spa, we were to have lunch at the First World Cafe.
First World Cafe sits 2400pax! So you can imagine it to be a huge area. Also with lots of food selection. First World Cafe caters monthly themed food. That day, since it was Chinese New Year month, we were having CNY themed food.
Most hotel guests will enjoy a complimentary meal here along with their stay.
First World Cafe operates daily, serving breakfast, lunch and dinner.
Buffet Breakfast: 6.00am - 10.30am
Price:
RM27.00++ (Adult)
RM13.50++ (Child)
Buffet Lunch: 12.00 noon - 2.30pm
Price:
RM 41.00++ (Adult)
RM 20.50++ (Child)
Buffet Dinner: 5.30pm - 9.30pm
Price:
RM 48.00++ (Adult)
RM 24.00++ (Child)
First World Cafe
is located on the
3rd Floor of First World Plaza
.
Well, I'm not really a big fan of haunted houses but we all kinda have to go through it.
The whole experience will be in 3D as you are given 3D glasses before you enter the 'elevator of doom'.
I surely won't want to spoil the fun for you. You should check it out for yourself.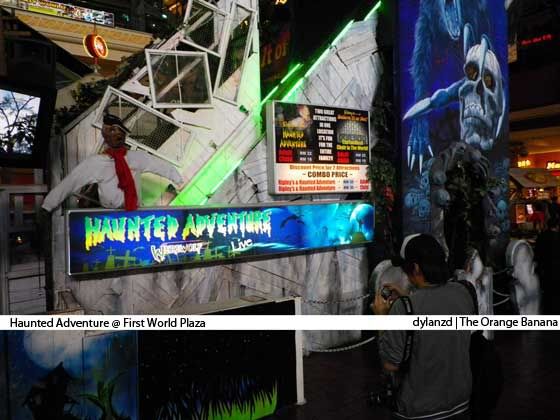 The Combo Ticket Package is at RM30 which includes the Haunted Adventure passes as well as entry to the Ripley's Museum.
Haunted Adventure is located at the Level 2 of First World Plaza. Near Times Square (the center stage).
RIPLEY'S BELIEVE IT OR NOT MUSEUM
If you have seen the show on TV and think that you don't need to enter the museum, well, you're wrong. The Ripley's museum has more to offer.
First off, the Ripley's museum is huge! There are rooms after rooms... it seems never ending! Just some things to look out for while you are here: The Mysterious Gate, The Dizzy Tunnel/Bridge and make sure you visit their toilets. =]
Tickets sells for RM18 for adults and RM15 for children ages 3-12years but it is advisable to get the Combo Ticket for RM30 which includes the Haunted Adventure as well.
The museum operates from 10am-10pm daily.
The Ripley's Museum is located at the 2nd Floor in First World Plaza.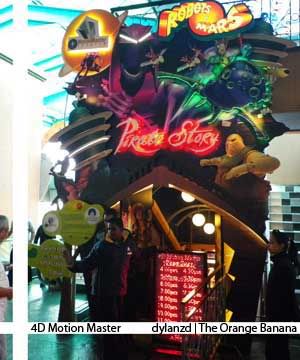 4D MOTION MASTER
After Ripley's, we had some time to ourselves so we headed towards the 4D Motion Master.
4D Motion Master is a cinema-like experience where you get to watch a cartoon animation in 3D + your seats will be moving interacting along with the animation.
They have two shows every time, with 30 minutes intervals and each show will last for about 15 minutes or so.
Single entry will cost RM8. However, you can enter with your Indoor Theme Park or All Park tag.
4D Motion Master
is located near the
entrance to the Outdoor Theme Park (near Flying Coaster)
.
OTHER ATTRACTIONS @ FIRST WORLD PLAZA
On and off there will be performances and dances in Times Square First World Plaza. Times Square is situated in the middle of First World Plaza Ground Floor, where the stage is at.
As you can see below, there was a dance act by the Genting resident dancers. Also at that time, there was a short performance by the performers of
GLITZ
!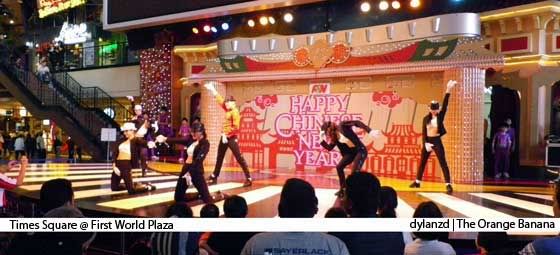 First World Plaza also has its very own bowling alley! The 28 lanes provided guarantees you to have the best bowling experience ever! Now what's special about Genting Bowl is that, after 6pm, you can have a 'glow in the dark' bowling experience!
Price per game starts at RM6 before 8pm on a weekday and RM7 after 8pm. Price may vary on different days and time.
it's the largest indoor snow world in Malaysia! You get to experience below zero temperature even in a tropical climate!
Entry is RM25 for adults and child. If you are a MyKad/Genting World Card Member, oui get to enter for just RM20.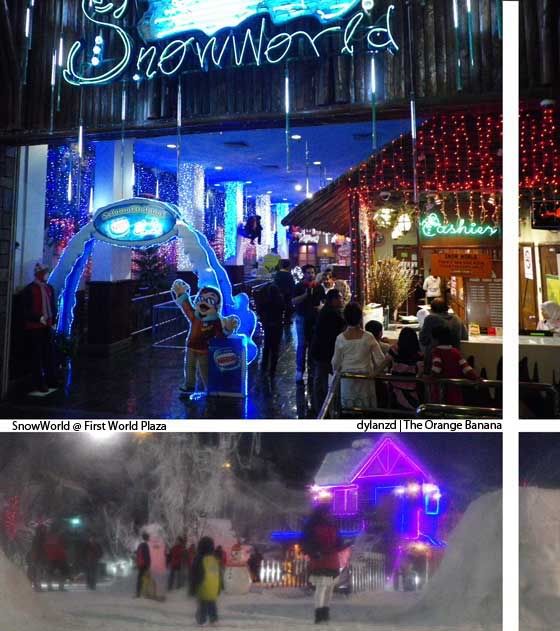 Snow World
is located at
Level T2A in First World Plaza
.
Resorts World Genting have just renovated The Patio in First World Genting.
Take the bridge and walk over the gondola river and you will find yourself in a relaxing lounging area, The Patio.
The Patio now has 4 different themed areas, the General Bar, the Wine & Whisky Bar, The TIGER Bar and the 'Godfather's Lounge'.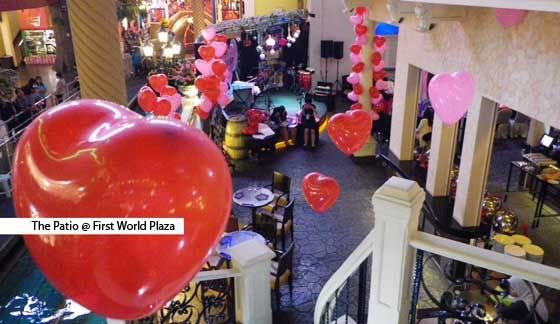 The Wine & Whisky Bar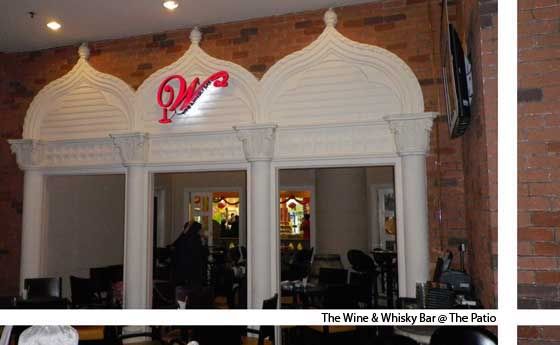 Drink the best wine and whisky here at the Patio. This area is separated away from the general bar giving you just enough privacy to talk and mingle among your friends.
The GodFather's Lounge
Feeling a little bit posh? Have a feeling you are above all others? Take the stairs up next to the Wine & Whisky Bar and you will fine yourself in the 'GodFather's Lounge'.
Enjoy the best wine here.
The TIGER Bar
The TIGER Bar are for football fans as they can enjoy their beer while watching their favourite football team play on TV. The blue theme really makes the room look interesting.
The General Bar
Here in the General Bar, they have 12 different taps of beer. Nothing can beat having a glass of beer while listening to a live band play.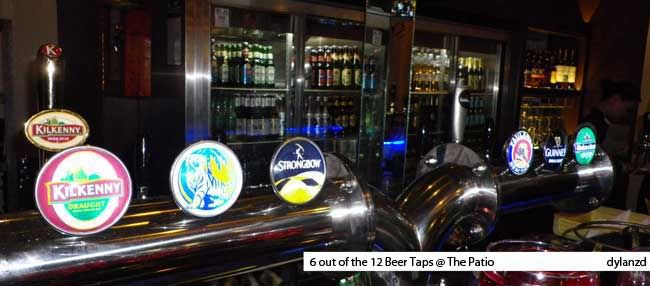 The Patio operates daily from 5pm-2am on Sundays to Thursday and 5pm-3am on Fridays, Saturdays, Eve of Public Holidays and Public Holidays.
The Patio
is located in
Level 2 of First World Plaza
.
SINGLE TO MINGLE EVENT @ RESORTS WORLD GENTING
There was another event running simultaneously with the Bloggers Day Out Event, which was the Single To Mingle Event.
Resorts World Genting selected 20 single people from their Facebook page to join this event. This event was done in conjunction with Valentines Day.
The 20 finalists were paired up with another person (a male and a female in a team) and this team will have to go around Resorts World Genting and complete a number of tasks together. Sort of like the Amazing Race.
In the end the winners will receive prizes from Resorts World Genting as well as various sponsors.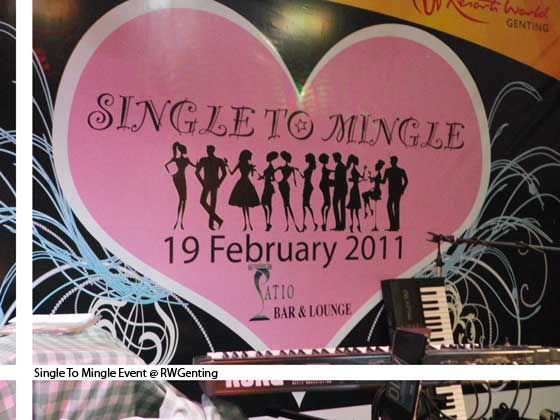 The 20 finalists were treated to a romantic dinner at The Patio. And we the bloggers were there too for dinner.
During dinner, we were entertained by the live band on stage.
If you are looking for a great time in the evening, do come over to The Patio.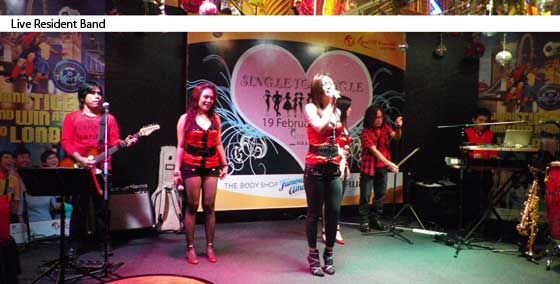 A FULL DAY OF FUN AND ADVENTURE
There you go! Some of the hidden secrets of First World Plaza revealed to you!
I hope after reading this post, you have gained some insight into the various activities you can do in First World Plaza. The adventure does not stop here as what I've blogged about is just the tip of the iceberg! There are more adventures and fun waiting to be discovered in First World Plaza.
The next time you are there, be sure to take lots of photos and tell everyone about the great holiday you have.
I hope to go back there soon as I have some unfinished business. =]
Until next time! See ya!